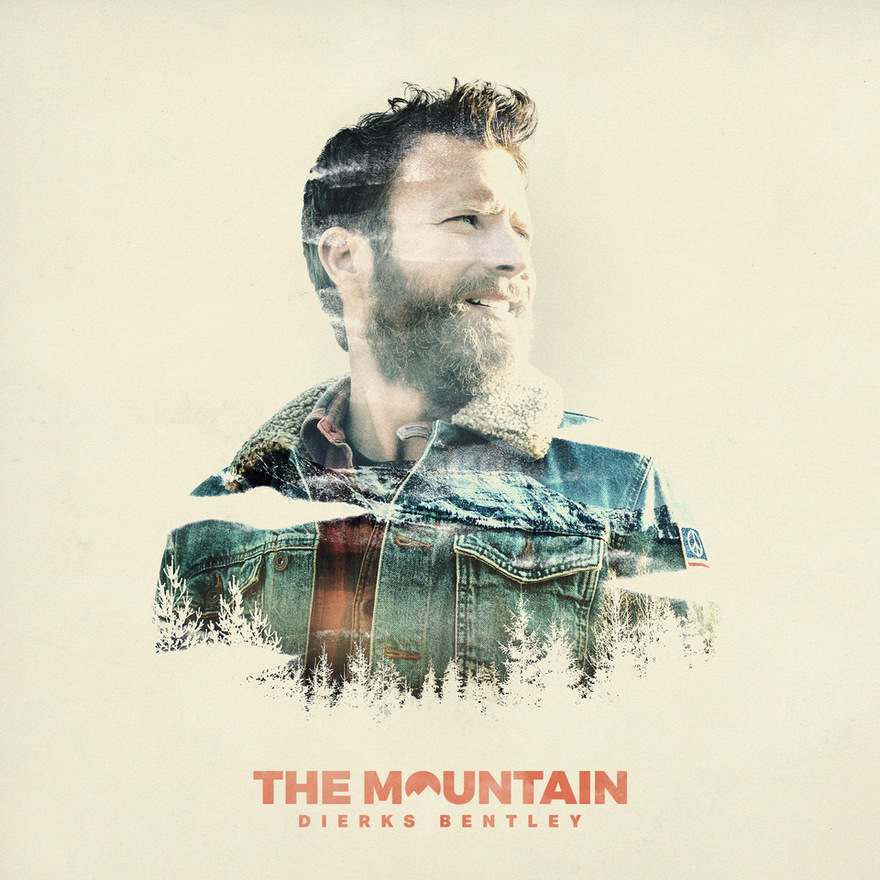 DIERKS BENTLEY CONTINUES ONE OF THE MOST AUTHENTIC JOURNEYS IN COUNTRY MUSIC WITH NINTH STUDIO ALBUM THE MOUNTAIN – AVAILABLE JUNE 8TH
April 12, 2018
The Inspiring 13-Track Climb Features Collaborations with Brothers Osborne, Brandi Carlile and
World Renowned Bluegrass Musicians Sam Bush, Jerry Douglas and Tim O'BrienTHE MOUNTAIN is Available for Pre-Order Tomorrow (4/13) with An Instant Download of Title Track
NASHVILLE, TN – Apr. 12, 2018 – Multi-PLATINUM selling singer/songwriter Dierks Bentley has built a reputation as both a forever-young drifter and a dedicated family man, put in millions of miles on headlining tours and taken the fearless stylistic detours of a truly authentic artist. He continues that journey with his highly anticipated ninth studio album, THE MOUNTAIN(Capitol Records Nashville), set for release June 8th. Reaching a new creative high, Bentley co-wrote 10 of the 13 new tracks that are unified by themes of presence and positivity, and range in style from textured rock to acoustic folk, feeling both rooted and expansive at the same time.
THE MOUNTAIN's story begins in the Rocky Mountain resort town of Telluride, Colorado, which every summer plays host to a celebrated bluegrass festival. Owing to his well-documented love of the genre, Bentley has attended the festival multiple times over the years, always making a point to slow down and tune back in to the world around him. But after performing on the festival's main stage in 2017, the idyllic surroundings became more than a much-needed getaway.
"I found myself there, constantly reaching for my guitar," Bentley said. "It was like a gravitational pull. That town and those people just make you want to be creative, I couldn't describe it. I was like 'How do I tell everyone in Nashville this is what I want to write about?' I realized I couldn't bring it back, so I had to take everyone out there."
Returning that August with six of his most trusted songwriting collaborators, Bentley and his fellow 'Telluwriters' all bunked up in a small house, explored the area and dug deep into the peaceful, reflective vibes he was feeling. They had five days to work with and were hoping to write eight songs…but ended up with nearly twice that number, forming the core of the record. Bentley returned to Telluride with his production team Ross Copperman, Jon Randall Stewart and Arturo Buenahora Jr to a tucked-away hideout called Studio in the Clouds last November to record. Perched high on a mesa, its tracking room overlooking the endless Rocky Mountain landscape, THE MOUNTAIN rose up in earnest.
"For me it's the best of both worlds, and it feels like something new. It's powerful but also happy, with acoustic sensibility mixed in with the big sounds I like to have for the road," Bentley added. "They are the songs I'd play for somebody to say, 'This is who I am right now.'"

THE MOUNTAIN Track Listing:
1. Burning Man (Feat. Brothers Osborne)
2. The Mountain 
3. Living
4. Woman, Amen
5. You Can't Bring Me Down
6. Nothing On But The Stars
7. Goodbye In Telluride
8. My Religion 
9. One Way
10. Son Of The Sun
11. Stranger To Myself
12. Travelin' Light (Feat. Brandi Carlile)
13. How I'm Going Out
After 15 years in Country music, the mountains Bentley has climbed could form a range of their own. To date, the Arizona native has scored 17 No. Ones and 13 GRAMMY nominations – including at least one stemming from each of his last six albums. Bentley has amassed more than one billion digital streams, countless additional nominations from the ACM, CMA and Billboard Music Awards and has been a Grand Ole Opry member for over a decade. After his 2017 tour claimed the top spot on Billboard's Hot Tours selling over 750,000 tickets, Bentley will fuel arenas and amphitheaters throughout the summer with his 2018 MOUNTAIN HIGH TOUR, launching May 18th in Columbia, MD. For more information visit www.dierks.com.