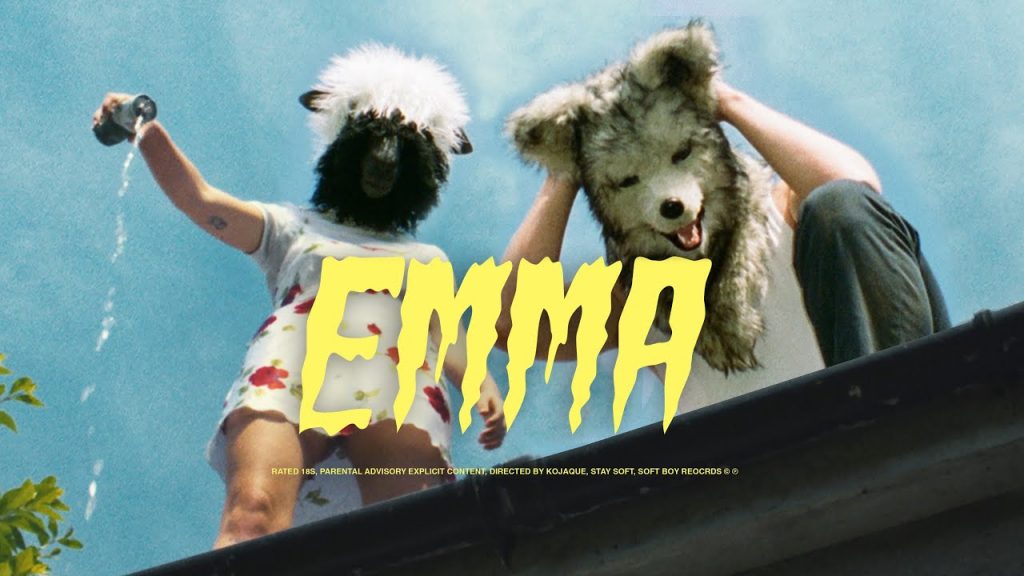 Kean Kavanagh releases new single 'EMMA' + Announces debut LP
September 4, 2020
Kean Kavanagh returns with his new single "Emma". A developed sound from his previous single 'Roll Over!' – the single delves deeper into Kean's incredible versatility as an artist – drawing a grittier sound and formulating a high-octane single that wouldn't sound out of place in a festival headline set. The single lands with the news of a highly anticipated forthcoming project – Dog Person.
STREAM:  https://backl.ink/Emma
WATCH THE OFFICIAL "EMMA" VIDEO, DIRECTED BY KOJAQUE HERE
PRE-ORDER THE EXCLUSIVE 'DOG PERSON' VINYL HERE
The project is a dream-like odyssey into melancholy, humour and the mundanity of life, with Kean's tongue planted firmly in his cheek along the way. Nearly entirely sef-produced and composed by Kean, he does lean on some familiar Soft Boys for the finishing touches. Peter Bríen lays down piano and extra synths on 'Sideways', while producing 'EMMA' too.
Speaking on "Emma", Kean states:
"Emma's an old song that I never recorded  – until I started working on this tune with Peter Brien when the project was all but finished and I found that it fit perfectly over the instrumental. I've wanted to make something like it for a long time so I'm very grateful for Pete's amazing production enabling me to get there."
The accompanying video, directed by Soft Boy Records co-founder Kojaque, is a nod to Kean's mis-behaving alter ego – a modern day love story filled with passion, danger and regret.
Dog Person is the deserved culmination of a whirlwind few years for Kean. His debut project, the ten-track collection prominently features the aforementioned semi-fictional, cigarette-bumming, binge-drinking, lovestruck alter-ego. A persona with just an echo of his real personality reverberating throughout the record.
"Before any of the songs were written I knew I was going to call the album 'Dog Person'… That just cracked me up. It was funny to think of this demented half-dog, half-person… But then that led me to this character, this shittier version of myself. The procrastinating side of me. The side of me out drinking to get away from that. I liked the idea of that duality, that Jekyll & Hyde situation."
Kean Kavanagh is ready to step forward into the limelight. Earlier this Summer, he shared the hazy and hypnotic "Roll Over!", a triumphant re-introduction to the young talent, who hasn't released a single since the delectable "Coca Cola Sky" at the end of last year, and one that garnered support from the likes of i-D, Clash, and more.
Cofounder, producer and A&R of Irish Label Soft Boy Records, Kean has previously pulled the strings behind the scenes; but is now becoming one of the most exciting names on the emerging music scene. A story-teller, word-smith and dexterous musician with a strong imagination, Kean's career is set to project far beyond his Irish roots. .
Founded in 2015, Soft Boy Records morphed into a cultural behemoth that gripped the Irish music scene and has refused to let go – alongside his co-founder Kojaque, Kean found himself sharing stages with big names such as Slow Thai and Lana Del Ray, as well as his consequential solo-slots opening for Maverick Sabre and Vampire Weekend.
Earlier this year, Kean appeared on the Everything is Recorded project 'FRIDAY FOREVER', (curated by Richard Russell of XL Recordings) alongside Aitch, Flohio, Maria Somerville, Ghostface Killah and others, and aligning himself with a tastemaker and hot tipped selection of musical peers.
Stay tuned for more on this Irish indie soul maestro's journey.
Stay soft.