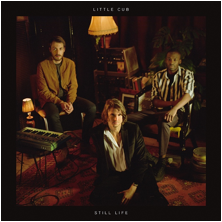 LITTLE CUB have released their debut album on Domino Records.
April 28, 2017
South London's LITTLE CUB have released their debut album entitled 'Still Life' today on Domino Records. This is a phenomenal debut from the three piece consisting of front man and vocalist Dominic Gore, Keys player and producer Duncan Tootill and bass player and co-writer Adrian Acolatse. The album showcases an honest beauty of upfront, stark British songwriting where Gore wears his poetic influences on his sleeve accompanied by great electronic production from Tootill. For fans of Hot Chip, New Order and Wild Beasts.
The Independent – ★★★★
The south London electronic trio find a balance between melancholic subtext and the thrill of a beat you can sway to.
DIY Magazine – ★★★★
Modern life might be rubbish, but Little Cub make it better
Press Play Magazine – ★★★★
Hard to stop listening to with each song offering something different and loveable
Record Collector – ★★★★
A delightfully trippy treat that improves with every encounter 
The Line of Best Fit – 8/10
A refreshingly honest record brimming with English jest and thoughtful electronic musicianship.
MOJO – Stream of realpolitik consciousness lyrics that come leavened by a synthetic, dancefloor-wise production
Rock Revolver – The complete package of a debut album […] Little Cub have [a] masterpiece of an initial offering that will have you hitting repeat.
NME – Best songs of the years so far – Featured single 'Too Much Love'
Mixmag – premiered the Baba Stiltz remix of Too Much Love
Wonderland – 'Fully expecting the boys to become huge after the album drops'
---
Little Cub is Dominic Gore, Duncan Tootill and Adrian Acolatse. Whilst now residing and writing in Peckham, their story begins in the banker-belt ennui of Dorking, Surrey, the sort of faceless suburban hinterland that J.G. Ballard was obsessed with. It was in this less than illustrious setting that Gore and Tootill first met by chance. The two hit it o over a shared love of James Murphy's seminal DFA Records, early Aphex Twin and New Order and before long began meeting up to share ideas for original songs alongside Ady Acolatse, whom Gore had met on a night out in the blare and glare of Fabric nightclub the previous summer.