Nilüfer Yanya Releases Feeling Lucky? Remix EP
August 18, 2021
Nilüfer Yanya Releases Feeling Lucky? Remix EP
Featuring New Remixes by Little Dragon, keiyaA, Kwes:
LISTEN HERE
Playing Pitchfork Music Festival London on November 13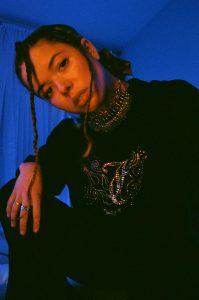 Photo credit: Molly Daniel
Today London's Nilüfer Yanya releases her Feeling Lucky? Remix EP, a collection of reworkings of the three songs from her acclaimed 2020 EP Feeling Lucky?. The EP features new remixes by electropop stars Little Dragon, rising R&B singer, songwriter, and producer keiyaA, and acclaimed London producer Kwes, who has previously worked with Solange, Kelela, and Tirzah.
LISTEN: FEELING LUCKY REMIX EP
"It was an incredible challenge to re-harmonize this record using Nilüfer's melodies as my guide. Nilüfer is an excellent songwriter and I was thrilled to be asked to do this remix," keiyaA says of her version of "Day 7.5093," of which Pitchfork praised, "KeiyaA maintains all the delightful quirks of Yanya's voice—the staticky quality, the staccato blips, the effortless falsetto—while also pulling 'Day 7.5093' into more experimental territory. It's a perfect melding of her world with Yanya's own."
Today Yanya shares a new visualizer for the remix of "Same Damn Luck" by Little Dragon, who say, "This remix is driven by the absolutely captivating sound and rhythm of Nilufer's voice! We love it."
Nilüfer Yanya – Feeling Lucky? Remix EP
August 18, 2021 – ATO Records
1. Same Damn Luck (Little Dragon Remix)
2. Day 7.5093 (keiyaA Remix)
3. Crash (Kwes. Rework)
Feeling Lucky? is the follow-up to Yanya's renowned 2019 debut album Miss Universe. Fresh off a year touring in support of Miss Universe, Yanya wrote the three new songs during a period of introspection and downtime in the early stages of the pandemic. In an interview with NPR's Weekend Edition, she reflected, "What's this whole music thing again? Why am I doing this? I didn't realize how much of my validation lies in being able to do music all the time." The EP was released in December 2020 to instant acclaim from fans and critics alike. The New York Times called the EP's first single "Crash" "a bit like a mid-90s alt-rock radio hit that never was," and AV Club called the EP "a pop-rock miracle." "Nilüfer Yanya's melodies have a pull so strong they almost necessitate their own law of physics," raved Pitchfork, and the Fader praised Yanya's "keen ear for emotional pop and devil horn-worthy guitar work." Yanya gave a rare stripped-down performance for NPR's Tiny Desk (Home) concert series, where she premiered "Day 7.5093," and then enlisted her full band for a thunderous performance of "Crash" on The Tonight Show Starring Jimmy Fallon.
Nilüfer Yanya will return to the stage for Pitchfork Music Festival London, co-headlining Hackney Church on November 13 with Moses Boyd and supported by Emma-Jean Thackray and cktrl. Tickets are available HERE.