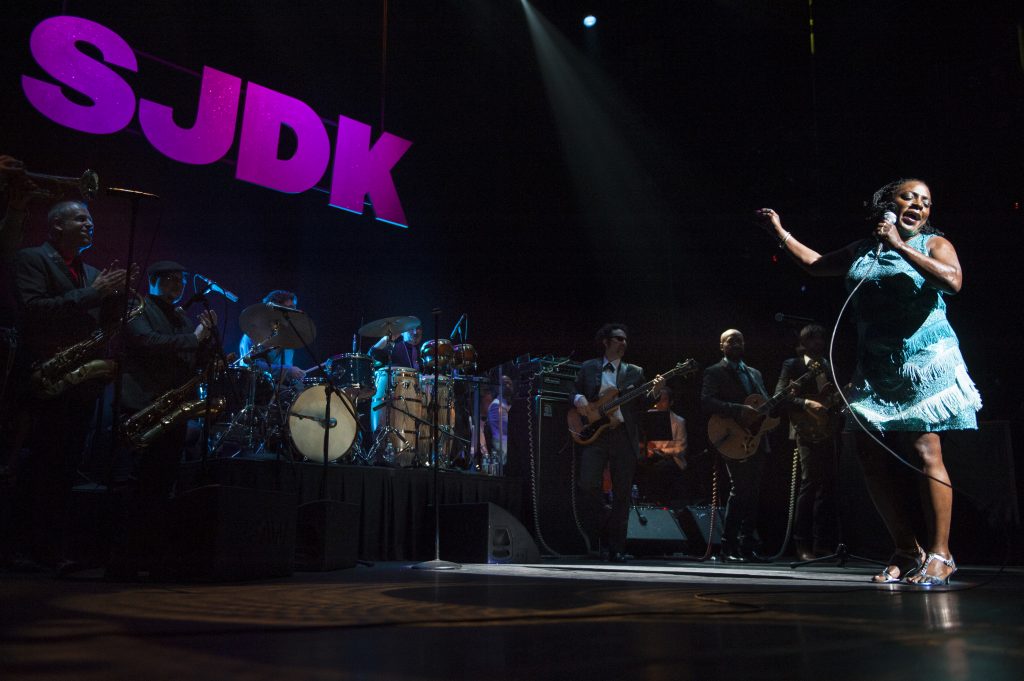 Sharon Jones & The Dap-Kings New Collection "Just Dropped In To See What Condition My Rendition Was In" Out Digitally Today
October 23, 2020
In honor of their new collection of cover songs, Just Dropped in to See What Condition my Rendition was in, out today, Sharon Jones & the Dap-Kings have shared their version "In the Bush," originally byMusique. Earlier singles include "Signed, Sealed, Delivered I'm Yours," the Stevie Wonder classic, and "Little By Little," made famous by Dusty Springfield. The physical LP, available on RSD Black Friday, will feature an exclusive transparent blue with black splatter color vinyl.
A slight detour from the classic soul of the preceding singles, "In the Bush" finds Jones and the Dap-Kings bringing their sound to the disco era. Groovy string sections give way to booming horns, above which the vocals soar. There's one question, posed by Jones and her singers, that you've gotta answer –"Are you ready for this?"
Stream "In the Bush" HERE
Just Dropped In… features covers by acts ranging from Janet Jackson to Woody Guthrie, showcasing the eclectic taste and superb musicality of Sharon Jones & the Dap-Kings. Over two decades, the band and Jones have built a reputation as studio aces, and this album compiles some of their most popular, as well as completely unreleased, renditions — originally recorded on their own or for commercials, movies, and TV shows.
Both "Rescue Me" and "In the Bush" were among the outtakes on the cutting room floor of The Wolf of Wall Street motion picture soundtrack, for which the band recorded several unused sides. "Just Dropped In (To See What Condition My Condition Was In)" was not just a remake of the Kenny Rogers' First Edition hit, but more specifically a near re-play of Bettye Lavette's 1968 version, and was notably the very first recording done at the Daptone House of Soul studio in 2002. The band's replay of Gladys Knight's "Giving Up" was specifically requested but unused by a producer who was confident he needed it to sample for a beat on a Dr. Dre album.
"Little by Little," "Inspiration Information," "Here I Am Baby," and "Take Me with U" were cut for tribute projects to Dusty Springfield, Shuggie Otis, The Marvelettes, and Prince, respectively. The latter is a perfect example of the way the band was able to take a familiar tune and completely flip it on it's head.
Hear "In The Bush" HERE
Of course, there were also many non-contracted covers over the years that the band cut of their own volition, starting with the complete re-invention of Janet Jackson's "What Have You Done for Me Lately" on the their 2001 debut LP, Dap-Dippin' with…, which convinced more than a few fans that Sharon's version was in fact the original after a counterfeit news article surfaced claiming that Jones was suing Jackson for copyright infringement. Sharon's heart-wrenching take on Bob Marley's early Wailers ballad "It Hurts to be Alone" is a tender nod to the soul that Jamaica borrowed from the States in the early sixties.
Though the band has mostly built their career on a prolific catalog of originals, these forays into other artists' compositions lay bare their gift for arrangement and the unmatched studio prowess that earned them their reputation as The Baddest Band in the Land.
Just Dropped In… comes as Jones' second posthumous release following the group's most recent album, Soul of a Woman (2017). Jones passed away in 2016 from pancreatic cancer.
Listen and buy Just Dropped In . . . HERE
Just Dropped In… / Daptone Records
Tracklist
Signed, Sealed, Delivered I'm Yours
Little By Little
Just Dropped In (To See What Condition My Condition Was In)
Here I Am Baby
What Have You Done For Me Lately?
Take Me With U
This Land Is Your Land (Digital Album Exclusive)
Inspiration Information
Giving Up
Rescue Me
In The Bush
It Hurts to Be Alone
Trespasser