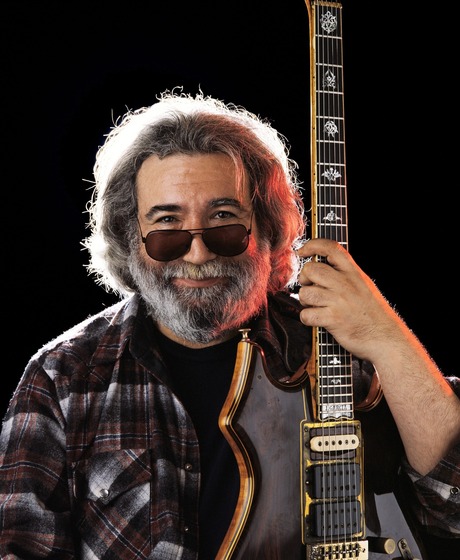 THE YEAR-LONG CELEBRATION OF JERRY GARCIA'S 75TH BIRTHDAY CONTINUES WITH NATIONWIDE EVENTS AND COMMEMORATIONS ALL STAR LINE UP OF THE JERRY GARCIA 75TH BIRTHDAY ACOUSTIC BAND ADDED TO SOLD OUT AUGUST 4TH RED ROCKS CONCERT
August 1, 2017
Nashville, TN — The late Jerry Garcia would have turned 75 on August 1st and 22 years after his passing on August 9, 1995, his cultural impact has yet to reach its apex. Nationwide celebrations, concerts, commemorations and archival releases continue to honor his one-of-a-kind legacy throughout the year.
The Jerry Garcia 75th Birthday Acoustic Band has just been added to the sold out August 4th birthday concert celebration at Red Rocks Amphitheatre in Morrison, CO. The special ensemble came together for the event and features original Jerry Garcia Acoustic Band members Sandy Rothman and Kenny Kosek, joined by Anders Osborne and Infamous Stringdusters Chris Pandolfi and Travis Book. The concert features Bob Weir with The Campfire Band comprised of The National's Bryan Devendorf, Scott Devendorf with Josh Kaufman, Steve Kimock and Jon Shaw. Also featured is the electric Jerry Garcia 75th Birthday Band with Melvin Seals, Jackie Labranch, Gloria Jones, Oteil Burbridge, Kamasi Washington, Tom Hamilton and Duane Trucks. For more information on the concert click HERE. Fan can live stream the event at Nugs.net (click for details).
The Jerry Garcia Family will co-sponsor an eclectic range of nationwide events that will be taking place around Garcia's birthday in cities such as New York, Los Angeles, San Francisco, Nashville and Burlington, VT. The events include performances featuring the wide scope of Garcia's repertoire from the Grateful Dead, Garcia/Grisman, Jerry Garcia Band and much more, interpreted by a vast cross section of artists from a variety of genres. The 15th Annual Jerry Day Celebration will take place at the Jerry Garcia Amphitheatre in San Francisco's McLaren Park on August. 6. See full schedule below. For tickets and information on all of these events, click HERE.
On July 28th, Round Records/ATO Records released GarciaLive Volume Nine: August 11, 1974 – Jerry Garcia & Merl Saunders, the latest installment of the celebrated GarciaLive archival series. The two-CD set was recorded at the legendary Keystone in Berkeley, CA and features Garcia and keyboardist/collaborator/mentor Merl Saunders with Grateful Dead drummer Bill Kreutzmann, Martin Fierro on flute and saxophone and longtime Garcia collaborator John Kahn on bass.
Starting on his August 1st birthday, and running through the day he passed on August 9th, SiriusXM's The Grateful Dead Channel will host Jerry Week, a celebration of Garcia's life through his music, archival interviews, rare concerts and other special programming, including a re-airing of the 2017 Red Rocks 75th Birthday Concert and the 2016 Jerry Garcia Symphonic Celebration featuring Warren Haynes and the Colorado Symphony Orchestra. Go to http://www.siriusxm.com/gratefuldead for more info.
On August 6th, the 15th Annual Jerry Day, the city of San Francisco will unveil a new plaque in honor of Jerry Garcia. The plaque will be permanently placed in the Excelsior District near 121 Amazon Avenue where the artist lived during his first five years. This is the second time the city has dedicated a plaque in Garcia's honor. Later that day, at the Jerry Garcia Amphitheatre in McLaren Park, the 15th Annual Jerry Day celebration continues with a concert featuring Melvin Seals and the JGB, Stu Allen & Mars Hotel and Midnight North.
On August 3rd, the San Francisco Giants will host the sold out annual Grateful Dead Tribute Night as the Giants take on the cross-bay rival Oakland A's. Members of The Jerry Garcia Family will be on hand and proceeds will benefit The Rex Foundation.
On August 5th at 9pm EST, AXS TV will air The Jerry Garcia Symphonic Celebration featuring Warren Haynes and the Colorado Symphony recorded on Garcia's 74th Birthday on August 1st 2016 at Red Rocks. This performance, recorded during the fourth installment of this special tour, featured inspiring collaborations on favorites, including "China Cat Sunflower," "Scarlet Begonias," "Morning Dew" and "Blues For Allah."
On Garcia's birthday in 2016, the legendary artist's live and studio catalogue was made available via streaming services the very first time. Thanks to the overwhelming support from the various services, the longtime, passionate fans and the legions of new fans, the reaction and activity over the last year has been nothing short of incredible.
Garcia's legacy continues to grow and touch newer generations worldwide, while remaining alive and vibrant in the hearts of millions thus proving the genuine love for Jerry will not fade away.
Jerry Garcia Regional Events Schedule
August 1st – Brooklyn Bowl – Brooklyn, NY
http://www.brooklynbowl.com/event/1517052
The Jerry Garcia Family & Brooklyn Bowl Present a Jerry Garcia 75th Birthday
Celebration featuring The Garcia Project recreating a classic Jerry Garcia Band
performance, Andy Falco (of Infamous Stringdusters) & Friends performing
Garcia & Grisman's Pizza Tapes
August 1st – Terragram Ballroom – Los Angeles, CA
http://www.teragramballroom.com/event/1516852-grateful-shred-friends-los-angeles
Aquarium Drunkard and the Jerry Garcia Family present Grateful Shred and
Friends celebrating the music of Jerry Garcia. Friends include Delicate Steve,
King Tuff, Emmett Kelly, Eric Johnson, Jenny O, William Tyler, Omar Velasco,
and Leslie Stevens
August 1st – Higher Ground Ballroom – Burlington, VT
http://www.highergroundmusic.com/event/1516635-jerry-garcia-75th-birthday-south-burlington/
Beg Steal or Borrow – a special opening set paying tribute to Old and in the Way.
Great North Special – Grateful Dead set featuring Seth Yacovone, Kevin Shapiro,
Trevor Ainsworth, Sheila Metcalf, Andy Burke, and Sean Preece.
Additional special guests include Ryan Miller (Guster), Brett Hughes, Zach
Dupont, Eric Olsen, Amanda Gustafson and more to be announced!
August 2nd – Basement East – Nashville, TN
http://thebasementnashville.com/event/7530255/ain-t-no-place-i-d-rather-be-jerry-
garcia-s-75th-birthday-celebration/
Ain't No Place I'd Rather Be: Jerry Garcia's 75th Birthday Celebration – A
Collection of Nashville's finest musicians will explore the expansive Garcia
Songbook with three sets spanning Garcia's career including Old And In The
Way, Jerry Garcia Band, and The Grateful Dead. Led by members of
Futurebirds, Los Colognes and Off The Wagon with special guests
including RayLand Baxter, Ben McLeod of All Them Witches, Robyn Hitchcock,
Trever Terndrup of Moon Taxi and many more!
August 6th – McLaren Park, Jerry Garcia Amphitheatre – San Francisco, CA
http://www.jerryday.org/
The 15th Annual Jerry Day featuring Melvin Seals and the JGB, Stu Allen &
Mars Hotel and Midnight North
Go to http://jerrygarcia.com to keep up on more Birthday Celebration
Announcements and Releases
For press information, please contact Jim Flammia at All Eyes Media
jim@alleyesmedia.com or (615) 227-2770