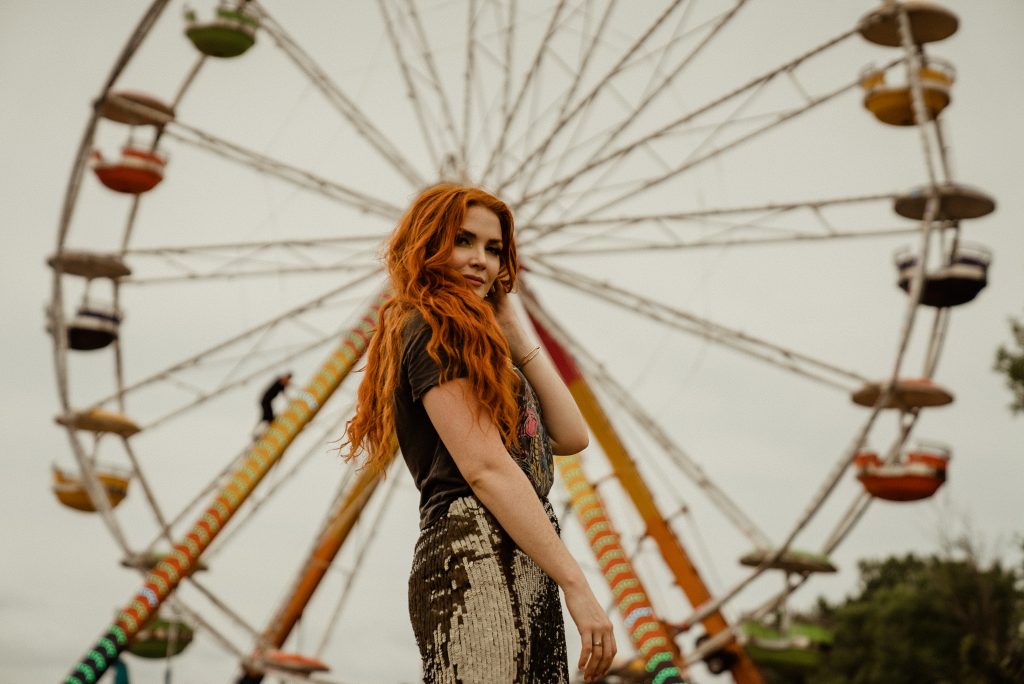 CAYLEE HAMMACK TAPPED TO PERFORM AT ROLLING STONE'S NINTH ANNUAL "ROLLING STONE LIVE: CHICAGO PARTY" THIS WEEKEND FOR LOLLAPOLOOZA
August 2, 2019
The "Artist To Watch" Plays All-Genre Party Beside Pink Sweat$, Harry Hudson, Jade Bird Tomorrow
Watch Hammack's VEVO Live Performances of "Family Tree" and
"Just Friends" Now
NASHVILLE, TN – Aug. 2, 2019 – "One of country's most promising newcomers" (Variety), Capitol Records Nashville's Caylee Hammack has been tapped as the only country artist set to perform at Rolling Stone's ninth annual Rolling Stone Live: Chicago Party tomorrow for Lollapolooza weekend. Already noticed for "her wildly dysfunctional, highly hysterical, ultimately loving 'Family Tree'" that "brings a gospel flavor to Dixie Chicks' freewheeling take on life at the fringes" (HITS Daily Double), the bill includes Pink Sweat$, Harry Hudson and Jade Bird tomorrow as well as Hammack, Japanese Breakfast, Normani and Hayley Kiyoko for today's "Morning Sessions" from the not-yet-opened Dance Studio. For more information, visit https://www.rollingstone.com/music/music-news/9th-annual-rolling-stone-live-chicago-party-lollapalooza-863091/

Hammack's commanding stage presence compliments the songwriter and producer's all-in approach to music, evident in her current single "Family Tree." The "exultant" (CMT) track debuted as the most-added single at Country radio by a female artist in over three years and has instantly caught the attention of headliners Dierks Bentley and Miranda Lambert, whom she will hit the road with this summer between sets at some of country music's biggest festivals including Watershed Music Festival, Seven Peaks Music Festival and more. Fans can watch new performances of "Family Tree" and "Just Friends," which has her "sounding like the second coming of Dolly before she goes grunge" (Variety) in newly released VEVO acoustic Live Performances HERE (https://www.youtube.com/watch?v=_kmIm4CJshc) and HERE (https://www.youtube.com/watch?v=hz4xUmaCXKU).

Background on Caylee Hammack:
Caylee Hammack constantly felt like a self-described "hippie in a hillbilly town" in her tiny hometown of Ellaville, Georgia. "I used to pray every night as a kid, 'God, just please make me different. Don't make me like everyone else,'" she remembers. Hammack is indeed refreshingly different. And at only 25, she has already packed a full life into just a few years, using fake IDs to get gigs around South Georgia, turning down a college scholarship for a love that burned out just a few months later, sleeping in her car when she arrived in Nashville and then losing her home in an electrical fire. "My dad has always said that the most beautiful and strongest things are forged in the fire," she says. "Iron is nothing until you work it in a fire. Glass cannot be blown without intense heat. You can't make anything beautiful or strong without a little heat."

Tested by the fire, Caylee Hammack has been molded into an artist with incredible depth and a powerhouse voice that can effortlessly veer from fiery and demanding to quiet and vulnerable. Her life experience and relentless curiosity have coalesced into a country cocktail that's rooted in tradition but expands with shards of modern pop and rock. Her self-penned songs tug on her own life story – bad decisions, secret affairs, broken hearts, a quirky family lineage – as she invariably turns the lemons of her daring life into sonic lemonade. Hammack has also been the noted as an "Artist To Watch" by outlets such as The Bobby Bones Show, Rolling Stone and HITS Magazine for her "voice to move mountains" alongside her "clever story telling that keeps it all in motion" (Rolling Stone). For additional information, visit cayleehammack.com.