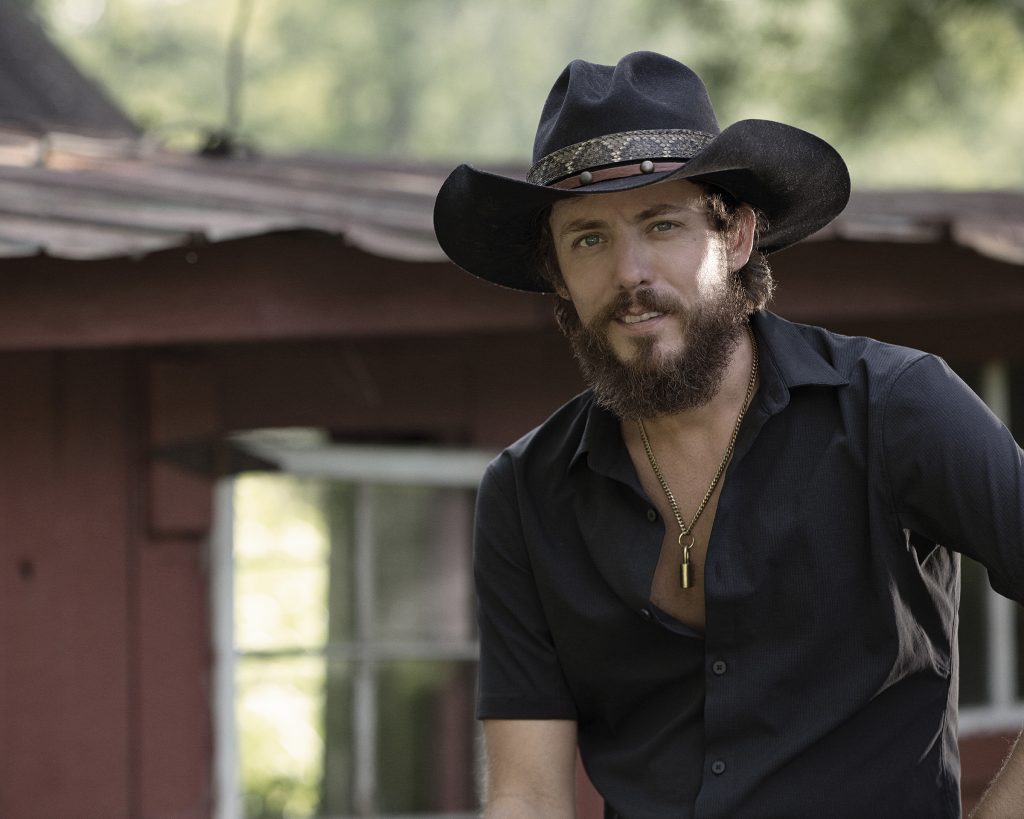 CHRIS JANSON REVEALS RELEASE DATE, TRACK LISTING, ALBUM COVER FOR FOURTH STUDIO ALBUM ALL IN
March 3, 2022
CHRIS JANSON REVEALS RELEASE DATE, TRACK LISTING, ALBUM COVER FOR FOURTH STUDIO ALBUM ALL IN
All In Due April 29, 2022
Janson to Headline Sold-Out Ryman Auditorium Date Next Thursday, March 10
NASHVILLE, Tenn. – (March 3, 2022) – Celebrated singer / songwriter, recording artist and entertainer Chris Janson announced earlier this year that his fourth studio album was due in the coming months. Today he reveals that All In will hit shelves and streaming services on Friday, April 29. The fully loaded, 16-track album features collaborations with Eric Church and Travis Tritt, as well as co-writes with some of Nashville's most acclaimed writers – Church, Ashley Gorley, David Lee Murphy, Rhett Akins, Casey Beathard, Dallas Davidson and more. Janson produced the project alongside Tommy Cecil, Zach Crowell and Brad Clawson.
"The title All In epitomizes this album," Janson shared previously. "There are all kind of songs on this project, but they all flow together because they are genuine to me. I went all in on every part of the process, from writing to singing to playing to producing. I feel like it's my best, most true-to-myself album to date."
He adds, "I hope the fans enjoy listening to this album as much as I did creating it. I love all 16 tracks, and I'm especially honored to have collaborated with my friends Eric Church and Travis Tritt!"
The award-winning artist has already revealed several album cuts, including the title track (listen HERE) and "Cold Beer Truth" (listen HERE). The latter has been described as "being about the kinds of heartfelt talks and soul-nourishing connections that only happen between good friends" and praised for its "classic country elements" (Taste of Country). The official music video for "Cold Beer Truth" (watch HERE) features special guests including University of Alabama football player and entrepreneur John Cassimus and famed fisherman Bill Dance. NASCAR's Richard Childress, Bass Pro Shops founder Johnny Morris, artist Kid Rock and more.
The album's flagship single, "Bye Mom" (listen HERE), meanwhile, continues to connect with fans as "masterfully written story song" (Taste of Country) about loving someone more than yourself. MusicRow has praised "Bye Mom" as "achingly lovely" and described it as "tapping into a universal truth."
Janson, whom Bobby Bones named among the "greatest performers in country music," is sharing new music from All In as well as his collection of chart-topping hits on his headlining "Halfway to Crazy" Tour. He has officially sold-out next Thursday's show (3/10) at Nashville's historic Ryman Auditorium. Tickets for remaining dates on the run are on sale now (click HERE). Accompanying him on the road are hit-making singer / songwriter Ray Fulcher and up-and-comer Shane Profitt.
Over the past six years as a Warner Music Nashville recording artist, Janson has spread "Good Vibes" while collecting four chart-topping singles, seven billion airplay impressions, more than 1.5 billion on-demand career streams and several major industry awards.
ALL IN TRACK LISTING
1. Keys To The Country* (Chris Janson/Dallas Davidson/Ashley Gorley/Zach Crowell)
2. We Did It Anyway* (Chris Janson/Dallas Davidson/Ashley Gorley/Chris Stevens)
3. Cold Beer Truth** (Brad Clawson/Mitch Oglesby/Rob Pennington/Chris Janson)
4. You, Me & The River (feat. Eric Church) (Eric Church)
5. Halfway To Crazy (Chris Janson/Rhett Akins/Dallas Davidson/Ben Hayslip)
6. Bye Mom* (Chris Janson/Brandon Kinney)
7. Love Don't Sleep (Chris Janson/Mitch Oglesby/David Frasier/John Edwards)
8. The Reel Bass Pro (Chris Janson/Mitch Ogelsby/Shane Profitt)
9. Too Far Gone (Chris Janson/Marv Green/Ben Hayslip)
10. Flag On The Wall (Chris Janson, Eric Church)
11. All In* (Chris Janson/Dallas Davidson/Ashley Gorley/Zach Crowell)
12. Here and Gone (Chris Janson, Casey Beathard)
13. Things You Can't Live Without (feat. Travis Tritt) (Chris Janson/David Lee Murphy/Deric Ruttan/Chris Stevens)
14. Small Town Big Time (Chris Janson/Jimmy Yeary/Tim Nichols)
15. You Never Did (Chris Janson)
16. My American World (Chris Janson, Kelly Roland, Shane Profitt)
Produced by Tommy Cecil and Chris Janson
*Produced by Zach Crowell and Chris Janson
**Produced by Brad Clawson and Chris Janson
HALFWAY TO CRAZY TOUR DATES
3/4/22 // Canton, OH // Canton Palace Theatre
3/5/22 // Johnson City, TN // Freedom Hall Civic Center
3/10/22 // Nashville, TN // Ryman Auditorium
3/11/22 // Mt. Vernon, KY // Renfro Valley Entertainment Center
3/12/22 // Greensburg, PA // The Palace Theatre
3/25/22 // Zanesville, OH // Secrest Auditorium
3/26/22 // Worcester, MA // Palladium
4/9/22 // Tallahassee, FL // Doak Campbell Stadium
4/10/22 // Tampa, FL // Busch Gardens Tampa Bay
4/15/22 // Oxford, AL // Oxford Performing Arts Center
4/16/22 // Hiawassee, GA // Anderson Music Hall
Tickets on sale now at www.chrisjanson.com/tour.