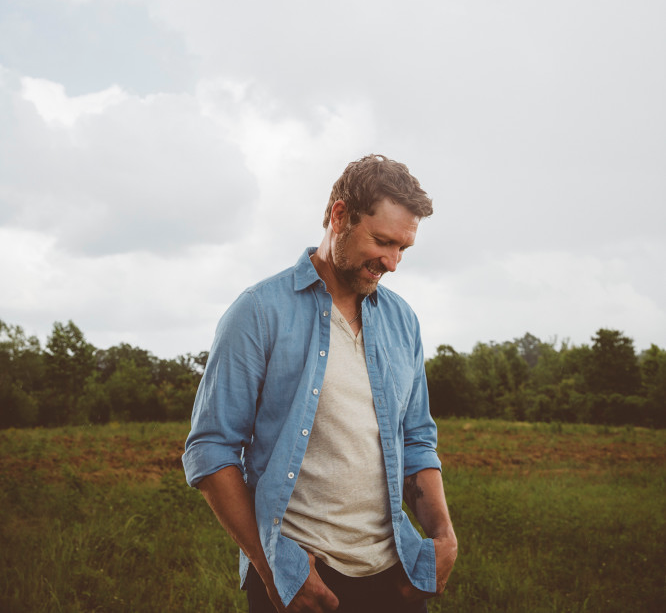 CRAIG MORGAN NAMED OPERATION FINALLY HOME 2017 AMBASSADOR
April 20, 2017
HOUSTON'S HOUSE OF BLUES MARKS THE KICKOFF OF OPERATION FINALLY HOME WELCOMES
"AMERICAN STORIES TOUR" WITH CRAIG MORGAN AND VERY SPECIAL GUESTS
Nashville, Tenn. – After teaming up in 2016 to surprise a military family with a mortgage-free home, country music entertainer, award-winning TV host and Army veteran CRAIG MORGAN has been named 2017 Operation FINALLY HOME Ambassador. Operation FINALLY HOME, a national non-profit that provides mortgage-free homes to veterans and their families, will partner with Craig this year to provide homes from select dates during his 2017 tour.
Last night, Houston's House of Blues hosted the kickoff of Operation FINALLY HOME Welcomes "American Stories Tour" with Craig Morgan and very special guests. Craig was joined onstage by THIRD DAY front man Mac Powell, songwriter/producer Phil O'Donnell ("Give It All We Got Tonight," "Back When I Knew It All"), Sergeant First Class, Army/Retired and photographer Josh Ferguson and daughter Alexandra Beaird for the packed show. During the unscripted set, Morgan gave an impromptu performance of "Like An Old Tattoo," a song he had just written with O'Donnell to honor Operation FINALLY HOME and to share his own memories of the true meaning of home. The chart-topping singer announced from the stage that he will reprise his intimate, immersive "American Stories" concert experience this fall with a series of dates from September through November. The shows celebrate American values through both music and storytelling. Guests and tour dates will be announced in the coming months.
Declared "a mature record that, while not afraid to have a little fun, values poignancy over pop country," (Rolling Stone Country) Morgan's newest album A Whole Lot More To Me is available now and the eighth season of his award-winning TV series Craig Morgan: All Access Outdoors will debut on Outdoor Channel this summer.
About Craig Morgan
A multi-faceted entertainer, Craig Morgan has made a name for himself as a country music icon, TV host, celebrated outdoorsman and patriotic Army veteran. One of country music's best-loved artists, Morgan thrills massive crowds with signature hits, including "Bonfire," Almost Home," "Redneck Yacht Club," "International Harvester," "This Ole Boy," Wake Up Loving You" and the six week #1, "That's What I Love About Sunday." His newest album, A Whole Lot More To Me, released in June 2016, features singles "I'll Be Home Soon" and "When I'm Gone."
Craig received one of country music's highest honors when he was inducted as a member of the Grand Ole Opry in 2008. In addition to a prolific country music career, he hosts the award-winning TV show "Craig Morgan: All Access Outdoors," approaching its eighth season on Outdoor Channel. Prior to becoming a country music star and TV sensation, Morgan spent seventeen years serving our country in the Army and Army Reserves. He is an avid supporter of America's military personnel and a recipient of the 2006 USO Merit Award.
Engage with him on Facebook, Instagram and Twitter and get tickets for Operation FINALLY HOME Welcomes "American Stories Tour" with Craig Morgan and very special guests at craigmorgan.com.
About Operation FINALLY HOME
Operation FINALLY HOME was established in 2005 as a nonpartisan/nonprofit 501(c)(3) organization. The mission of Operation FINALLY HOME is to provide custom-built, mortgage-free homes to America's military heroes and the widows of the fallen who have sacrificed so much to defend our freedom and values. Operation FINALLY HOME partners with corporate sponsors, builder associations, builders, developers, individual contributors, and volunteers to help America's military heroes and their families transition to the home front by addressing one of their most pressing needs—a home to call their own. To find out more, visit OperationFinallyHome.org.
Photo credit: Michael Lanier
Left to right: Bryan Frasher (Red Light Management), Jeff Hill (APA),
Kerri Fox-Metoyer (APA), Craig Morgan, Dan Wallrath (Operation Finally Home),
Gaines Sturdivant (Red Light Management), Jerry Hines (Tour Manager, Craig Morgan)