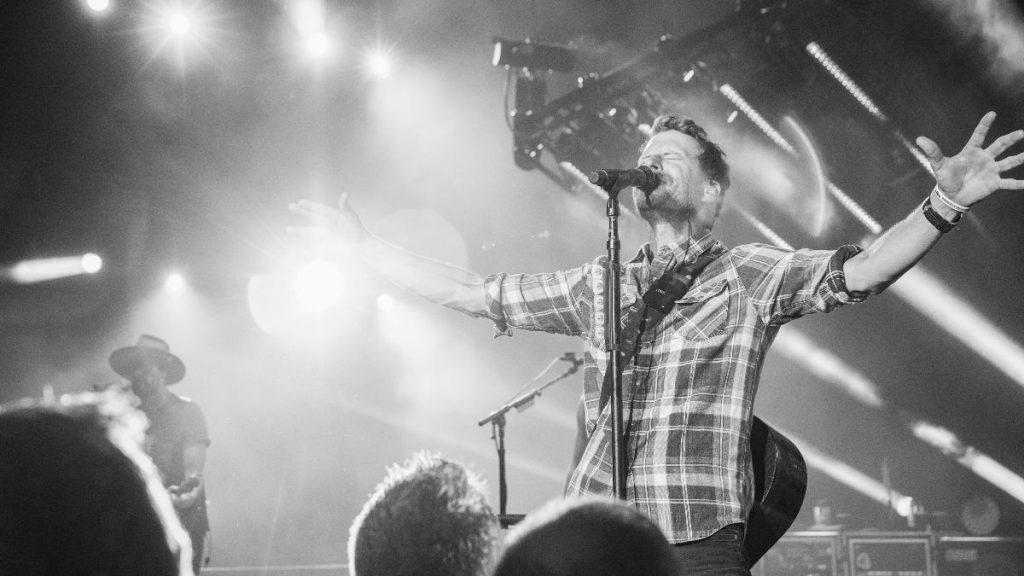 DIERKS BENTLEY CULMINATES 2019 BURNING MAN TOUR WITH "UNFORGETTABLE FIRE" SINCE ITS FEBRUARY LAUNCH
September 9, 2019
Three-Time CMA Nominee Puts 'Stirring Communal Moments' on Display
Throughout the Run, Including with Surprise Guest Kelsea Ballerini on Friday
NASHVILLE, TN – Sep. 09, 2019 – Coming off an unforgettable high from his second annual SEVEN PEAKS MUSIC FESTIVAL, current three-time CMA nominee Dierks Bentley wrapped his 2019 BURNING MAN TOUR in partnership with 5-hour ENERGY® on the West Coast this past weekend. The multi-faceted artist knew how to precisely engage his audience for more than four hours each night throughout the 55-city run, with two stripped down acoustic sets before delivering deafening sing-alongs as the headliner and with his 90s cover band Hot Country Knights, who has "turned into a sensation" (OC Register). The tour also featured direct support from Jon Pardi, Tenille Townes and Hot Country Knights along with Caylee Hammack closing out the final weekend.
As Bentley likes to "focus on stirring, communal moments" with his "unforgettable fire" (Indy Star) hisspontaneity was on full-blast throughout the tour with show-stopping collaborations that included Miranda Lambert, Thomas Rhett, Keith Urban and Kelsea Ballerini who joined Bentley last Friday (9/6). Known to parlay through the crowd "in a way that connected with every single body in the stadium" (Ottawa Citizen), critics nationwide commend Bentley as "he plays to the entire crowd and has more energy than most young children" (Parade).
"Attending a Dierks Bentley concert is like a party with thousands of your closest friends. Bentley has been known for exactly the type of concert his fans came to see, an incessant high-energy show with non-stop music." – MusicFest News
"Bentley's stage presence is something to marvel at. He has a natural charisma and a refreshingly diverse physical vocabulary that emphasizes and corresponds to his lyrics." – Spokesman Review
"After years of steady touring, Bentley has honed his road show into a carefully paced mix of Country rock anthems, touching ballads and raucous boozers." – The Hamilton Spectator
Pegged as "one of Country music's most enviable brands, equal parts affability and authenticity" (Forbes), Bentley continues to be a dominant voice for the genre with over 6.4 billion overall digital streams. Reaching a new creative high while "making music designed to challenge" (New York Times), Bentley co-wrote 10 of 13 tracks on THE MOUNTAIN, which earned him the highest debut sales of his career and became his seventh chart-topping album. Bentley has amassed countless nominations from the ACMs, CMAs, Billboard Music Awards and more while also earning 14 GRAMMY nominations. He has created professional endeavors outside of the music with his Flag & Anthem partnership creating the exclusive lifestyle collection, Desert Son, along with his "Dierks Bentley's Whiskey Row" franchise hosting four locations. For more information visit www.dierks.com.