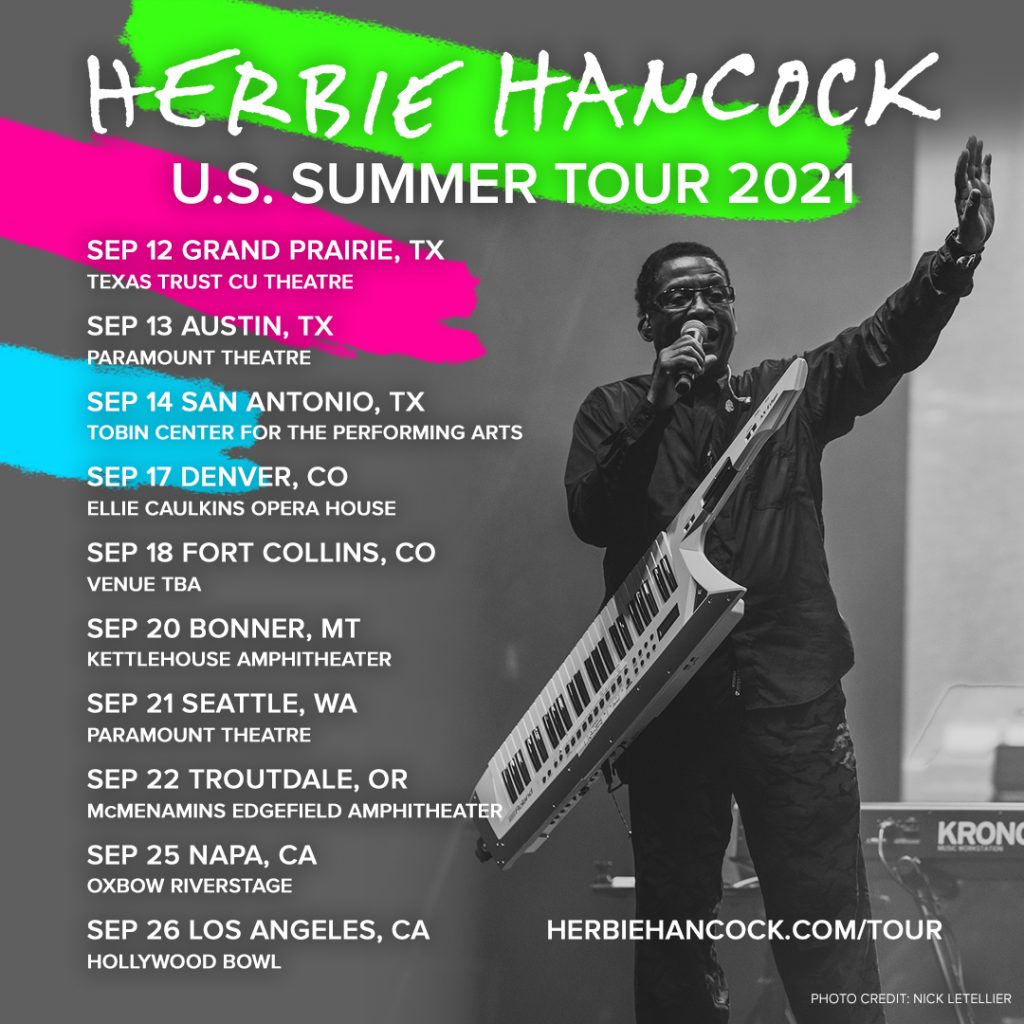 HERBIE HANCOCK AND BAND ANNOUNCE FIRST LIVE DATES OF POST-PANDEMIC TOUR WITH MORE TO FOLLOW
May 24, 2021
Following almost two years of being off-the-road during the Covid-19 global health crisis, Herbie Hancock and his band will be returning to the road with an initial slate of tour dates across the Southwest and West Coast taking place this Fall. Hancock's tour will take him and his band to fans and music lovers in Austin, Denver, Seattle, Northern California and Los Angeles, with more dates to be announced in the near future.  Performances will feature a retrospective of material from throughout the artist's career, including glimpses of material from his long forthcoming next release.  
"It's time for me to get back out there and do what I love to do," said Hancock, "We will be safe and we will be careful, but it's time to reconnect with our fans, play live music and have some fun after a long period of isolation.  It's time to spread a little joy."
Now in the sixth decade of his professional life, Herbie Hancock remains where he has always been: at the forefront of world culture, technology, business and music.  Herbie Hancock has been an integral part of every popular music movement since the 1960's.  As a member of the Miles Davis Quintet that pioneered a groundbreaking sound in jazz, he also developed new approaches on his own recordings, followed by his work in the 70s – with record-breaking albums such as "Headhunters" – that combined electric jazz with funk and rock in an innovative style that continues to influence contemporary music. "Rockit" and "Future Shock" marked Hancock's foray into electronic dance sounds; during the same period he also continued to work in an acoustic setting with V.S.O.P.
Hancock received an Academy Award for his Round Midnight film score and 14 Grammy Awards, including Album of the Year for "River:  The Joni Letters," and two 2011 Grammy Awards for the globally collaborative CD, "The Imagine Project."
Hancock serves as Creative Chair for Jazz for the Los Angeles Philharmonic Association and as Institute Chairman of the Herbie Hancock Institute of Jazz. In 2011 Hancock was named a UNESCO Goodwill Ambassador, and in December of 2013, received a Kennedy Center Honor. His memoirs, Herbie Hancock: Possibilities, were published by Viking in 2014, and in February 2016 he was awarded the Grammy Lifetime Achievement Award.
Vinyl Me, Please recently released "The Story of Herbie Hancock" VMP Anthology.  The limited edition 8-LP compendium/set includes a 24-page booklet with liner notes by Marcus Moore and a 4-episode exclusive podcast hosted by Touré and is currently available now exclusively at the Vinyl Me, Please website.
Accompanying band members for the tour will be announced in the near future.
Tour Dates are as follows:
12-Sep-21    Sun​Grand Prairie, TX​Texas Trust CU Theatre at Grand Prairie
13-Sep-21    Mon​Austin, TX​​Paramount Theatre
14-Sep-21    Tue​San Antonio, TX​Tobin Center for the Performing Arts
17-Sep-21    Fri​Denver, CO​​Ellie Caulkins Opera House
18-Sep-21    Sat​Ft. Collins, CO​TBA           
20-Sep-21    Mon​Bonner, MT​​Kettle House Amphitheatre
21-Sep-21    Tue​Seattle, WA​​Paramount Theatre
22-Sep-21    Wed​Troutdale, OR    ​Edgefield Amphitheater        
25-Sep-21    Sat ​Napa, CA​​Oxbow RiverStage
26-Sep-21    Sun​Los Angeles, CA​Hollywood Bowl