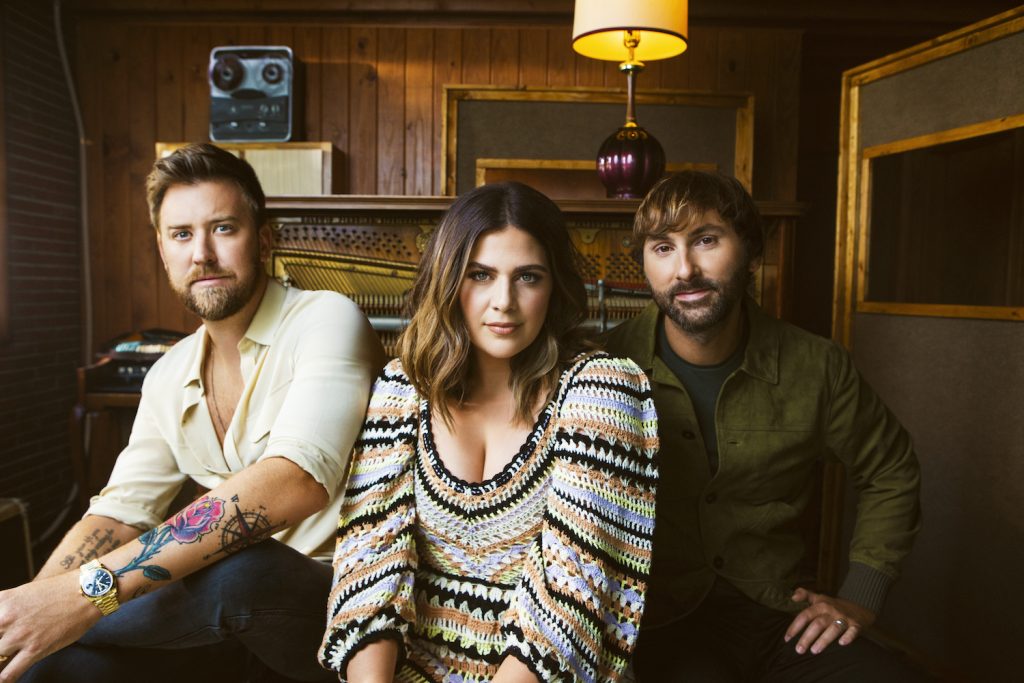 Lady A's Request Line Tour Launches w/Sold Out Shows & Diamonds
April 18, 2023
LADY A'S CELEBRATORY LAUNCH OF THE REQUEST LINE TOUR BEGINS WITH SOLD OUT SHOWS, UNIQUELY INTIMATE FAN MOMENTS AND THEIR BIGGEST HITS

RIAA Surprises Group with Diamond Certification of "Need You Now," Marking Only the Fifth Track to Reach the Mark in Country Music History
Nashville, TN – April 17, 2023 – Current ACM nominees Lady A kicked off their REQUEST LINE TOUR with back to back sold out nights at Nashville's iconic Ryman Auditorium over the weekend (4/14, 4/15), feeling like a "long overdue celebration between the band and their fans" (American Songwriter). The music-filled nights were the band's longest sets to date, including their greatest hits that have traveled the world, a spontaneous medley of cover songs and intensely personal performances, which earned standing ovations both nights. Woven between those moments, Lady A also played voicemail requests from fans attending that night's show, which proved to create an entirely unique fan connection. 

"Over the past year, planning this tour has kept me awake countless nights dreaming up how we could show the fans that we've been profoundly impacted by them," shared Hillary Scott. "This tour is about our fans' connection to these lyrics and melodies. It's about how we all love and want to be loved. I believe live music communicates that better than most anything else. I hope every person who steps foot in one of our shows feels seen, feels part of this moment that we'll never forget and knows they are welcome. Let's sing, let's laugh, let's let the light in!"

Each night, the band played a voicemail request from a fan in attendance. From deep cuts to cover songs, Lady A followed each with a performance of the requested song like "Bartender" from a fan who had traveled from Australia for the show, and another for the first song the three had ever written together "All We'd Ever Need" from a fan from New Orleans attending his 11th Lady A show. Another request came for "Hurt" from an anonymous fan who'd lost their partner to ALS, and for their hit "What A Song Can Do" from a group of friends who camp together. It was a request for "Hello World" Saturday night that inspired Charles Kelley to go into the crowd to hug a fan who was celebrating over a decade of sobriety. 

"The stories we've heard and read through the requests are the reason we do what we do," added Dave Haywood. "We've been deeply touched."

The 21-stop tour that is next headed to Chicago (4/20), Louisville (4/21) and Indianapolis (4/22) with friend Dave Barnes also included a surprise for the trio backstage. Friday night, the Recording Industry Association of America (RIAA) surprised Lady A with Diamond certification for "Need You Now," marking only the fifth time a Country song has reached the benchmark and is the highest certified single by a Country group.
L to R: Jackie Jones (SVP Artist & Industry Relations, RIAA), Hillary Scott (Lady A), Charles Kelley (Lady A), Dave Haywood (Lady A) and Morna Willens (Chief Policy Officer, RIAA) 

Built around rich vocal harmony, vivid emotional writing and a smooth fusion of country, rock and pop, Lady A have long been a model of mainstream success. The trio's 11 No. Ones, 18 million albums sold, 34 million tracks, five billion digital streams and a global touring footprint prove that point. They have earned CMA "Vocal Group of the Year" trophies three years in a row and countless other honors including five GRAMMY Awards, Billboard Music Awards, People's Choice Awards, Teen Choice Awards, and a Tony Award nomination. For more information and for a full list of tour dates, visit 
www.ladyamusic.com
.