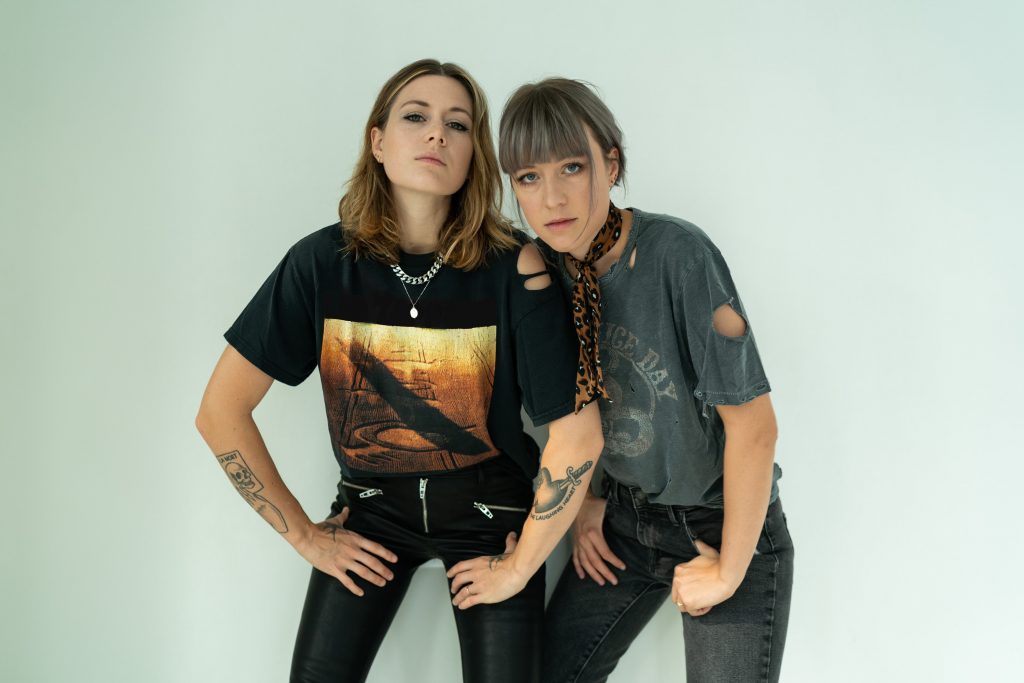 LARKIN POE'S NEW ALBUM SELF MADE MAN AVAILABLE NOW
June 15, 2020
The GRAMMY® Award-nominated sister duo Larkin Poe will release their eagerly awaited album, SELF MADE MAN on June 12. In celebration of the release, they have also announced a full band livestream concert from the Brooklyn Bowl Nashville on June 27, that will be viewable on Fans.com
SELF MADE MAN sees the multi-instrumentalist sister duo, comprised of the Atlanta-bred, Nashville-based Rebecca and Megan Lovell, pushing their music and message towards hitherto unexplored terrain, inspired by their epic world travels yet still powerfully rooted in the creative heritage of their beloved American South. Songs like the gothic gospel "Holy Ghost Fire" manifest a key aspect of the southern tradition, presenting a sense of celebration and renewal amid the common struggles of existence, offering a way to move through trying circumstances.
SELF MADE MAN – which follows 2018's chart-topping, GRAMMY® Award-nominated fourth studio album, VENOM & FAITH – was self-produced by Larkin Poe, like its predecessor, with "our good buddy and engineer" Roger Alan Nichols at his Nashville studio, Bell Tone Recording. From the thunderous power of the album-opening "She's A Self Made Man," through the nostalgic "Tears of Blue to Gold" and fierce Chicago blues of "Scorpion," to the front porch jubilation of "Easy Street," the album is ambitious in both its eclectic, energetic sound and its resolutely welcoming mission, its universal lyrical approach fueled by tradition, invention, and Larkin Poe's remarkable ability to touch the hearts and souls of their fellow humans worldwide.
"This is, in a lot of ways, is the first lyrically uplifting record we've made," Megan Lowell says. "People can go through terrible things. People can weather immeasurable sorrow and hard times, and yet we can still come out on the other side, pull ourselves together, and thrive. This record reflects some of the joy and positivity that we ourselves feel and appreciate."
 "She's A Self Made Man" first arrived in March. With its playfully pointed gender twist, the track both gives the LP its title and serves as an anthem for Larkin Poe, kicking off the proceedings with a big riffed assertion of their current intent and amplified artistic power. An official companion video, directed by Robbie Klein (Florida Georgia Line, Justin Timberlake, Maren Morris), is streaming now via YouTube.
The premiere of "She's A Self Made Man" was met by immediate critical acclaim, with American Songwriter writing, "Murky blues ooze off chunky riffs, delivering something ominous on 'She's a Self Made Man.' It goes deep. It's melodious and mucky. It's a punch to the gut." CLASH named the "biting, fantastically emphatic new single" as its "Track of the Day," noting, "Its crunching guitar palette is augmented by flashes of sterling Americana, hearkening to their Nashville base." "She's A Self Made Man" "kicks all kinds of ass," raved Classic Rock. "If delta blues had a baby with punk, and raised it on beefy rock 'n' roll, it might have turned out like this. Tune in, get involved…"
LISTEN TO "SHE'S A SELF MADE MAN"
WATCH "SHE'S A SELF MADE MAN"
"Holy Ghost Fire" followed and like its predecessor, was greeted with worldwide applause from the likes of Classic Rock, which named it among their "Tracks of the Week," writing, "This one's got a subtle gospel-y hoodoo to it – with its early blues flavours and harmonised chorus cries of 'testify' and 'smoke risin' higher' – but make no mistake, it rocks hard. The sound of people who've clearly listened to their share of Son House and Zeppelin, Aerosmith and the like." A special lockdown performance video, directed, shot, and edited by Rebecca and Megan with assistance from Tyler Bryant, is streaming now via YouTube.
"Keep Diggin'" was the next track to be released. The song dives into the old fashioned idea of the rumor mill, and while the desire to gossip might almost come second nature to many, Larkin Poe's "Keep Diggin'" reminds listeners to think twice about the information they're receiving. 
"Some songs feel like they want to be written; they almost seem to spin together of their own accord like a tornado and move with their own momentum — "Keep Diggin'" was one of those songs," explain Rebecca and Megan. "The taste for gossip comes standard issue for most folks and especially for those of us born and raised in the south – as our aunt Stella May used to say: "if you don't have anything nice to say, come sit next to me". 'Keep Diggin' is a playful warning to those with loose lips: don't always believe everything you hear."
"Back Down South" was the final track to be released ahead of the full album. Garden & Gun spearheaded the launch of the track with special coverage calling it "Larkin Poe's love song to the south." Rebecca and Megan expanded on that notion saying "Roots American music is the language of our souls. We take pride in being part of a new generation of music-makers who are building upon the foundations that were laid by countless musical pioneers across the American south."
Due to the Covid-19 pandemic, Larkin Poe initiated their "Home Sweet Home" Live Stream Series of online concerts. A portion of all proceeds went to benefit United Way Nashville to assist the community with the double effects of the recent tornado and current pandemic, and they donated all proceeds from the last livestream on June 6 to racial justice organizations. 
www.larkinpoe.com
# # #
LARKIN POE
SELF MADE MAN
(TRICKI-WOO RECORDS)
RELEASE DATE: FRIDAY, JUNE 12
TRACKLISTING:
1. She's A Self Made Man
2. Holy Ghost Fire
3. Keep Diggin'
4. Back Down South
5. Tears Of Blue To Gold
6. God Moves On The Water
7. Every Bird That Flies
8. Scorpion
9. Danger Angel
10. Ex-Con
11. Easy Street
# # #
CONNECT WITH LARKIN POE
OFFICIAL
FACEBOOK
INSTAGRAM
TWITTER
YOUTUBE