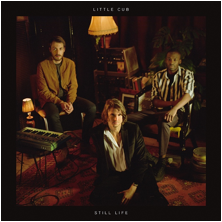 LITTLE CUB share video for new track 'Hypnotise' + New Album April 28
March 30, 2017
 SHARE VIDEO FOR NEW TRACK 'HYPNOTISE' – WATCH HERE
DEBUT ALBUM STILL LIFE RELEASED 28TH APRIL ON DOMINO
NEW LIVE DATES ANNOUNCED INCLUDING THE GREAT ESCAPE, DOT TO DOT AND LATITUDE FESTIVALS
With their debut album Still Life released 28th April on Domino, south London trio Little Cub have shared a video for the latest track to be taken from the album, 'Hypnotise'. Watch the video now HERE.
Compiled and directed by Kim Taylor, the new video's cut-and-paste library imagery echoes vocalist Dominic Gore's call to arms lyricism, romanticising a future beyond the common modern day dystopian view.
"We're big fans of the way Adam Curtis, Mark Leckey or Elizabeth Price work with found footage to convey complex issues simply," says Gore of the new video. "It gives their films a sense of timelessness (these aren't new issues, Orwell was talking about this 70 years ago) and a tradition that we thought was important because it combats the lethargy to feel part of something bigger, to feel less helpless, to feel less alone. You don't have to be a shining example to be angry about what's happening in society right now. Feeling powerless and apathetic because your voice isn't heard or because you're told you're complicit isn't a reason to be quiet. It's a very British thing to be uncomfortable with over-sincerity but this stuff is everywhere and everyone is talking about it, so to ignore it entirely and just write songs about how great life is feels not only idiotic but also unrealistic."
Watch the video for 'Hypnotise' HERE
Listen to 'Hypnotise' on streaming services HERE
Alongside the new video, the band have announced new live dates including slots at this year's Stag and Dagger, The Great Escape, Dot To Dot and Latitude festivals and a special headline date at London's The Lexington on Tuesday May 9th to celebrate the album's release.
Sunday 30th April | Stag and Dagger Festival, Glasgow, UK
Tuesday 9th May | The Lexington, London, UK
Thursday 18th May – Saturday 20th May | The Great Escape Festival, Brighton, UK
Friday 26th May – Sunday 30th May | Dot To Dot Festival, Manchester, Bristol and Nottingham, UK
Thursday 13th July – Sunday 16th July | Latitude Festival, Henham Park, Southwold, Suffolk, UK
—
Still Life was produced by Little Cub and mixed by the band, Oli Bayston (Boxed In) and Alexis Smith. It will be released on limited deluxe 12" gold vinyl, including album download card plus seven bonus remixes by the band, via Domino Mart, CD and digitally.
Pre-order Still Life on deluxe 12" vinyl via Domino Mart HERE
Pre-order Still Life on CD via Domino Mart HERE
Pre-order Still Life digitally HERE
—
Praise for Little Cub
"Gleaming electronic pop that harnesses the sounds of artists as varied as New Order and British producers like Leon Vynehall and George Fitzgerald."
NME
"The London trio specialize in the sort of moody, club-ready synthpop that has always been one of Britain's specialties."
Stereogum
"Little Cub seem to be concerned with making a very particular type of British suburban pop music—two parts Pet Shop Boys, one part Wild Beasts."
THUMP
—
Little Cub Online
Website | Facebook | Twitter | Instagram | Spotify | Apple Music