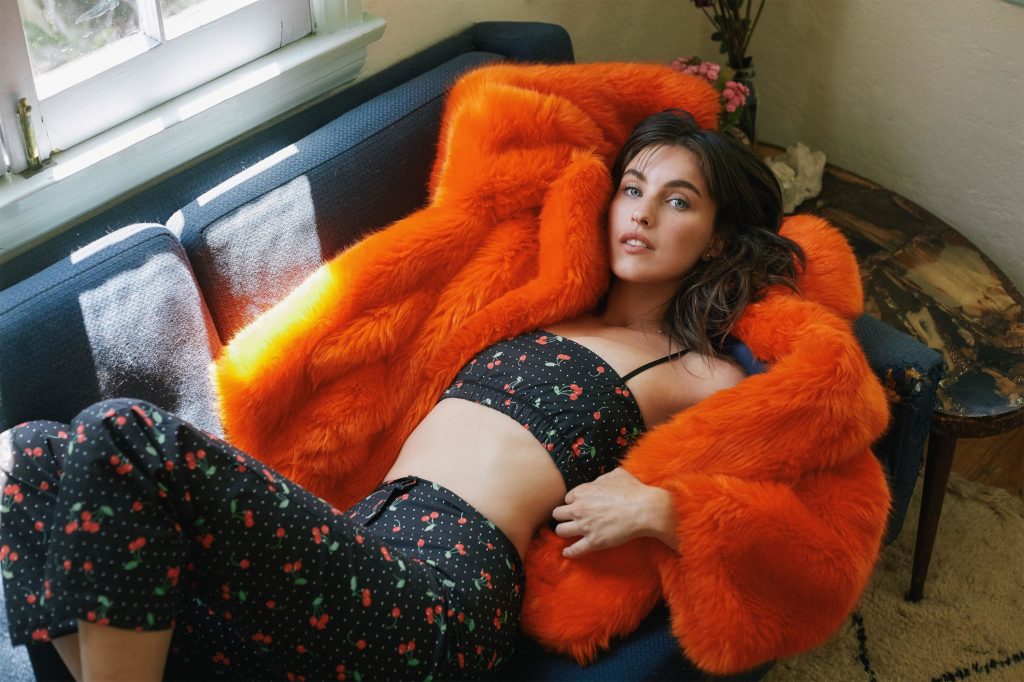 Rainey Qualley is Rainsford: See Her New Intoxicating Video for "Flowers in a Vase"
October 2, 2017
Rainey Qualley is Rainsford: See Her New Intoxicating Video for "Flowers in a Vase"
Through past releases, Rainsford has explored unique and avant-garde electronic production elements and vocal textures with singles like "S.I.D. (Sunshine in December)" and "Too Close."
Rainsford's latest release, "Flowers In A Vase," is testament to her skill, talent, and versatility as a vocalist, songwriter and artist. In contrast to her previous releases, "Flowers" brings vulnerability to the forefront with stripped-down, subtle production elements and echoing guitar sounds. An electric finger-picking guitar follows Rainsford's haunting vocal throughout the entire track, intimately exposing her lyricism and melody. Her incredible range allows for seamless transitions from an emotional, husky tone to an angelic and unmistakable upper sound quality throughout her track. Written during Rainsford's time in the hospital, "Flowers" presents the combination of human fragility and strength within her; the track is undoubtedly a milestone in the young artist's career, revealing an unprecedented level of maturity and experience at this stage of Rainsford's musical path.
Since you grew up in such a creative family, did you always know you wanted to be a part of the creative industry?
I definitely have always been drawn to the arts, so I guess so. I started dancing when I was about two years old, and my parents put me in piano lessons and violin when I was a kid.
Do you write most of your music? When did you start writing?
I started getting into poetry and starting to kind of write music when I was in high school, even though I didn't know exactly what I was doing. I started recording demos for the first time when I moved to New York when I was nineteen. I later moved to LA and started working with some different writers. It wasn't about until almost two years ago when I started working with Nick Dungo, who is now my best friend, that I really feel like I found my sound that I felt like I was really excited to release. He's co-written and produced the four songs that I have out now and [Powers and Debate], which is my next single.
So you started with piano and violin. Can you share maybe a couple memories, maybe specific memories from early on in your life where you knew you wanted to pursue singing and writing?
For me, dance was really influential in becoming a musician, because it exposed me to so many kinds of music. When you're dancing, you really experience the music in a physical way. You have to be in it and you have to feel it, rather than just passively listening. I think that, being so intensely involved in dance for all of my childhood shaped my musical interest. It made me love music so much. And then, I remember going to musicals when I was a little kid, in New York, going to see shows on Broadway. I went and saw Annie and remember thinking, "Wow. Holy Shit. These kids are my age, like nine years old girls up there, and they're singing their hearts out." And then I went home and tried to sing like Annie, and realized, "Hey I can do that too." I realized that I could sing like those girls, and that was a fun realization as a child.
Have you kept up the dancing? How has that shifted in your life–the role of dancing?
I'm obviously not pursuing it on any kind of professional level, but it's something that I love to do. I still take dance classes for fun. My bed–there is a lofted space where I actually sleep, but the lower part of my bedroom I keep empty with a mirror so I can just dance in my bedroom. It's a good little set-up.
What influenced your pop sound? 
Pop and and R&B has always been the music that I loved the most. It's always what I wanted to do. For me, it was just about finding the right people to work with, because I'm terrible with production. So I know the kind of sound that I like and have a very clear vision for what I want, it just took finding someone where we really understood each other, had the same musical interests. With Nick, it's just so easy because we have such similar tastes. He's my best friend now, so he's so easy to work with him. I'm so open. It's a good balance, because I'm always the one to do less, to pull back, and he's always like, "Let's produce it out a little more."
How did you two meet? 
I guess about two years ago, in New York. I was writing with a bunch of different writers and producers. I was trying to find my style. I just wanted to work with as many people as I could, practice writing, and figure things out. My manager at the time, set me up on a co-write with Nick. We hit it off. On that day, we wrote S.I.D., which was my first single that I put out. We've just been writing and making music together nonstop since. He was living in Brooklyn, but he recently moved out  to LA too, which is super sick for me. He has a studio in his place, so I just go over and hang with him and write and work on the songs that we have going, sometimes every day, sometimes a couple times a week.
So could you tell us about the song in particular, "Flowers In A Vase," and the creative process with it, maybe in conjunction with Nick?
Flowers in a vase feels more like a journal entry than anything else really. I started it about a year ago, when I was going through some major health issues. About six months after that, Nick and I found the voicemail in my phone from when we started and decided to come back to it. For me, there was something really special about the original iPhone recording, the demo that we started with. So we wanted to keep the song really intimate and low key. It's kind of different from the other songs that I have out, but I just wanted to keep it in that simple form in a way.
What was the premise for the music video? 
For the video, I worked with Jason Brown, who's a really talented director. We set out to create an almost dream-like, reflective mood. I wanted to keep the video pretty simple and ambiguous. The song was pretty heavy for me, so I didn't want to get into any kind of narrative, or play out any specific step-by-step of how the song was created. Nick is also featured in the video, which I'm really excited about because he's such an integral part of my music. There's also a part with a little kitten I was fostering at the time. Animals are my second big love outside of the arts, so I've fostered five kittens and found homes for them this summer. So having a little kitten in the video made it feel like I was revealing another part of myself, in a way.
Is there anything specific you want viewers to feel while watching this video?
I don't ever want to tell anyone how to feel. Having a natural reaction to a song or a video that is personal, and I don't want to dictate someone's feelings. On purpose I wanted to keep it ambiguous, kept it open, because, for the song, laying out the story, exactly how I was feeling, and telling it bit by bit would make it too–it's not what I wanted to do. I thought a lot about the lights and the colors in the video. For me, colors carry such a specific emotional response, so finding the right visual balance was really important.
What does a day in your life look like, as a musician and as a writer? 
It's hard to say because every day is so different. It depends on what I'm working on. I guess my typical day is, I do my weirdo shit at home. In the morning, I have coffee, do yoga, dance in my room, and take my dog for a walk. Then I go over to Nick's house and work on a new song or one that we already have going. Some days, I'll be travelling. I've been working on a lot of videos recently, so I've been coming up with creative for videos and shooting videos, just kind of trying to put the pieces together and keep things rolling and moving forward. There's not really a typical schedule, because I'm working on new things everyday.
Do you have people that you typically work with in video work, or are those generally case-by-case?
My most recent video "Rendezvous," my sister and I directed it together. So it was us and some people helping us coordinate. For "Too Close," I worked with this chick, Remy Martin, who was super cool. For "S.I.D.", my first video. I didn't have any money, so I just worked with old, weird body-builder footage footage on YouTube and stole a bunch of footage and made this weird compilation body-builder video. So I don't really have a typical creative team. I either just do it myself or work with someone that feels like a good fit for that specific project.
So what would you say is next for you? What's planned on the horizon? 
I'm doing the same thing I did with "Flowers" next month with another single and another video. Then, we're putting out an EP after that. That's the plan for the next couple months.