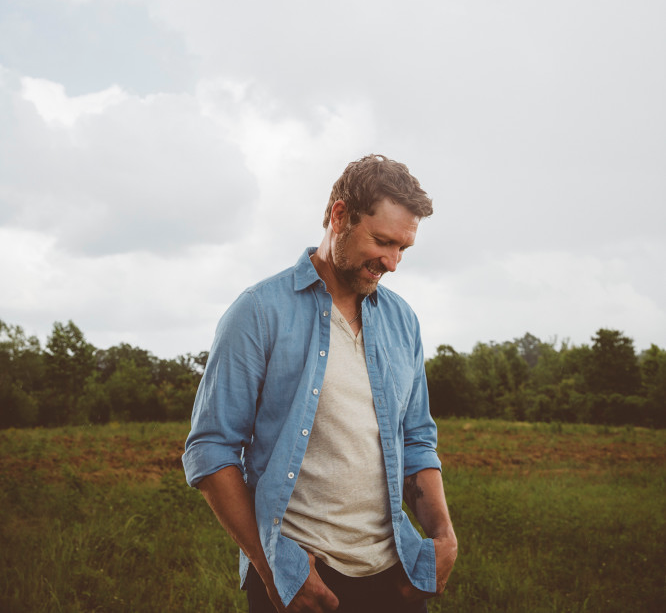 Revealing Record From Craig Morgan, A Whole Lot More To Me, Set To Release June 3
May 11, 2016
Nashville, TN – (April 26, 2016) – CRAIG MORGAN'S revealing new studio album, aptly titled, A WHOLE LOT MORE TO ME, is set for release on Black River Entertainment on June 3 but eager fans can pre-order the new music now! Available at < http://www.craigmorgan.com/store>, the A WHOLE LOT MORE TO ME album pre-order presents three tiered offerings with additional value for the country music fan:
Pre-Order #1:  Autographed A Whole Lot More To Me CD
Pre-Order #2:  Exclusive T-shirt + Autographed A Whole Lot More To Me CD
Pre-Order #3:  Autographed Breedlove Discovery Concert Acoustic Guitar + Exclusive T-shirt + Autographed A Whole Lot More To Me CD
After almost a year of intense focus in the studio, country music entertainer, military veteran and award-winning TV host CRAIG MORGAN is proud of the new collection, which he co-produced with Byron Gallimore (Tim McGraw, Faith Hill, Lee Ann Womack).
Building on the proven hits "This Ole Boy," "Wake Up Lovin' You," "Bonfire," "International Harvester" and the six week #1, "That's What I Love About Sunday," the Black River Entertainment recording artist's music continues to evolve to new heights, working with GRAMMY® award winning producer Byron Gallimore for the first time, further defining the distinctly authentic Craig Morgan sound.
"I'll Be Home Soon," is an epic love song and one of many radio-ready hits on Morgan's highly anticipated project. He's written nearly half of the album's dozen tracks, and makes all of them his own. "I'm That Country" exudes Southern charm; "Remind Me Why I'm Crazy" showcases Morgan the crooner; "I Can't Wait to Stay" exults the joys of a small-town life; and "A Whole Lot More to Me" is a musical autobiography. The collection's "When I'm Gone," has already met critical acclaim with Music Row calling it a "powerhouse performance of a pile-driving song." Each highlights his artistic renaissance.
Another standout on the project is "Hearts I Leave Behind," which features Morgan's gritty and poignant vocals with the soulful Christian rock band Third Day's lead singer, Mac Powell.
The hard-touring artist has already been testing out the songs on the road, to stellar results. "When I'm Gone" becomes a call to action; "Country Side of Heaven" is an audience sing-along; and "Nowhere Without You," written by Michael McDonald, stands as an epic power ballad.
"I've got a renewed energy with this record," Morgan says emphatically. "In fact, I'm at the pinnacle of my career — producing, singing and touring. And this album epitomizes that. It's all about living to the fullest, and when people hear it, I know they'll relate it to their own lives."
OFFICIAL A WHOLE LOT MORE TO ME TRACK LISTING:
"I'll Be Home Soon" (Justin Ebach/ Steven Dale Jones/ John King)
"Living On Memories" (Craig Morgan/ Scott Stepakoff/ Josh Osborne)
 "All Cried Out" (Wendell Mobley/ Neil Thrasher/ Busbee)
"A Whole Lot More To Me" (Craig Morgan/ Mike Rogers)
"Hearts I Leave Behind" featuring Mac Powell (Nick Sturms/ Travis Meadows)
"Country Side Of Heaven" (Eric Paslay/ Dylan Altman/ Shane McAnally)
"Nowhere Without You" (Michael McDonald/ John Goodwin)
"I'm That Country" (Craig Morgan/ Mike Rogers/ Kevin Denney/ Tom Botkin)
"When I'm Gone" (Justin Ebach/ Steven Dale Jones)
"Who Would It Be" (Dylan Altman/ Will Hoge/ Gordie Sampson)
"Remind Me Why I'm Crazy" (Craig Morgan/ Jim McBride/ Phil O'Donnell)
"Can't Wait To Stay" (Craig Morgan/ Phil O'Donnell)