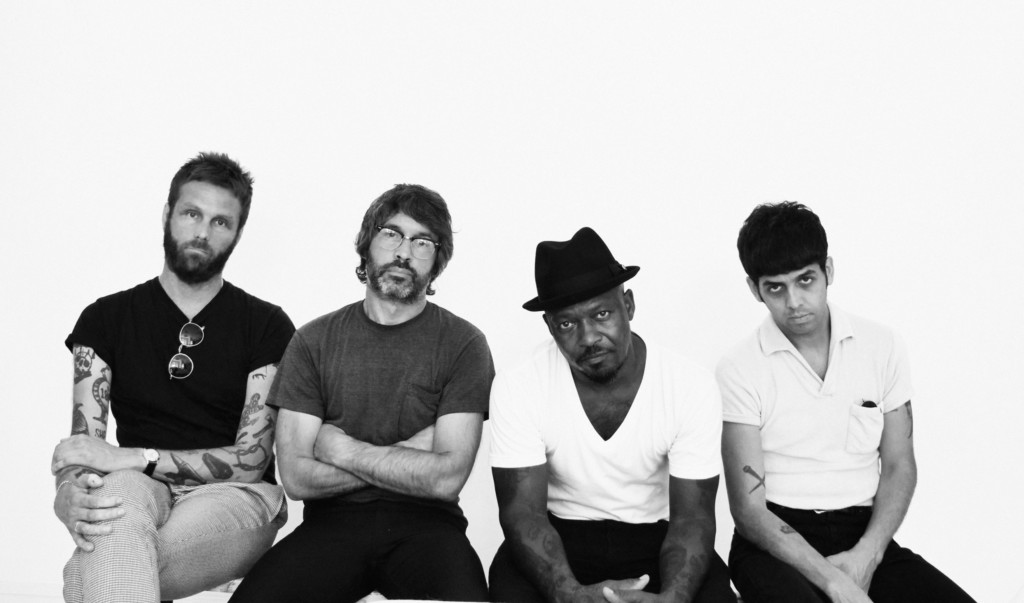 THE HEAVY ANNOUNCE NEW ALBUM 'AMEN' + UK/EU TOUR DATES
January 13, 2023
THE HEAVY
RETURN WITH THEIR NEW ALBUM 'AMEN', OUT 21ST APRIL 2023
THE NEW SINGLE 'HURRICANE COMING' IS OUT NOW
UK/EU TOUR DATES ANNOUNCED – US DATES TO FOLLOW
The Heavy have announced that their new album, 'AMEN', will be released on April 21st, 2023. 
They
 will support the release with a series of UK/EU tour dates, including two underplay shows in Bristol and London. A run of US tour dates will be announced shortly. 
For a band
 flying so narrowly beneath the mainstream's radar, The Heavy are everywhere. Their songs – combining the band's affectionate corrosions of vintage R&B with the gritty soul vocals of Kelvin Swaby – 
are embedded deep into Western pop culture; mainstays of modern radio, TV, cinema and gaming that are, subconsciously or not, familiar to millions.
Their osmosis rise was swift. At the height of the blues rock revival in 2007 Swaby and guitarist Daniel Taylor, having formed a strong bond over vintage soul and Jim Jarmusch, recruited bassist Spencer Page and drummer Chris Ellul, two student friends they knew from Bath's insular classic pop circuit, to help them construct the sample-heavy "bedroom" debut album Great Vengeance And Furious Fire, released on Ninja Tune's rock imprint Counter Records. 
Within a year, needing to recreate the album live had enriched their DIY aesthetic with a grainy R&B authenticity, horn sections and gospel backing singers. They began making waves Stateside, tipped by Spin and Rolling Stone in 2008. Then a live performance of 'How You Like Me Now?' – the lead single from 2009's second album The House That Dirt Built, where The Black Keys' more psychedelic moments met classic Stax – on The Late Show With David Letterman punted them straight into the American psyche.
The US decided it liked 'How You Like Me Now?' very much indeed. The track was selected to soundtrack a 2010 Super Bowl commercial, and feature heavily in Mark Wahlberg's sports drama The Fighter. "The Fighter was quite a big moment," says Chris. "They took us to a cinema when we were on tour, rented out a whole cinema to show us the movie, and that was a bit like, 'oh, wow, this is all over it'."
Before long the song was "all over" US culture. On TV, The Vampire Diaries, Entourage, Community, Rookie Blue and White Collar all featured the track. In gaming, it appeared in Driver: San Francisco and MLB 10. On the big screen, Horrible Bosses, Limitless, The Expendables 3, The Change-Up, This Means War and GI Joe: Retaliation all played on the drama exuding from its corrupted soul, an attribute that makes The Heavy's music naturally cinematic. The song became so ubiquitous in the States that it was 'How You Like Me Know?' which played over the speakers at Barack Obama's HQ in Chicago to declare his victory in the 2012 Presidential election; an answer, perhaps, to the Republican Presidential hopeful Newt Gingrich, who had used the song at campaign rallies until the band issued a cease-and-desist order.
The Heavy's infiltration of the global subconscious was only beginning. 'Short Change Hero', also from The House That Dirt Built, became a TV sync mainstay, reached new generations as the theme to Batman: Arkham City and several Borderlands video games and even made it into real-life battle zones. "We knew a Special Forces guy in America," Dan says, "and he told me they'd listen to 'Short Change Hero' in a tank when they were out on operations in Iraq." 
By the time 2012's third album The Glorious Dead catapulted tracks including 'Same 'Ol' and gritty gospel funk blast 'What Makes A Good Man?' onto adverts, TV shows, games and the trailer for Tarantino's The Hateful Eight, The Heavy were pioneering a very modern method of rock'n'roll survival and prosperity; they were arguably the 21st Century's first major sync sensation.
Expanding the scope and ambition of their sound over 2016's Hurt & The Merciless and 2019's Sons, and growing increasingly tight as a unit despite Kelvin moving to the US with his American wife in 2016, the band hit 2020 on top of a world about to deflate. Their sixth album had been written during sessions in Florida at the end of their 2019 US tour and demoed when Kelvin visited the UK in February 2020. Real World engineer Joe Jones and Black Keys and U2 producer Tchad Blake (nicknamed "Captain Crunch" by the band) were on board. Then, for a year, they sat and waited. 
As Rockfield Studios began to re-open in 2021 The Heavy snatched sessions where they could throughout the year, with Kelvin recording his vocals remotely in the US and the band "keen to be able to try and have everything based around the live performance", recording live takes in the UK with Little Barrie's Barrie Cadogan and on-stage keyboardist Toby McLaren filling out the sound. When possible, Dan travelled to Columbus, Ohio to record the voices of The Heavy's regular gospel choir and by February 2022 AMEN was complete and ready for release whenever touring became viable again – i.e., early 2023.
Arriving three years on from their last live shows, and self-released for the first time for "more control", AMEN would naturally mark a new era for The Heavy even if it didn't sound so much like a force-of-nature rebirth. Lead single 'Hurricane Coming' is a buzz funk tornado, an exhilarating maelstrom of '60s R&B riffs, horns and gospel harmonies, inspired by Kelvin being caught up in Hurricane Irma soon after moving to the US. "The power of that, and it only touched us at, like, a one," he recalls. "It's just the way that relationships are as well. It was a reminder 'to be a little more careful of taking something beautiful for granted'. Don't take people for fools. There's always something waiting, lurking, even…"
Come 2023, The Heavy are every bit as revitalised as AMEN sounds. "We've honed our craft," says Chris, "we're just better at what we do." "It feels like a step up," Kelvin adds. "It feels like all of the songs are insane. There's no filler at all." He cites the merging of two separate ideas – one his, one Dan's – to make 'Without A Woman' as evidence of the band's natural magic. "That kind of shit is why we are the band that we are because we can do that. We could be an ocean apart, but we still have this spark. It's just there."
Tour dates:
March
21st – London, Oslo
22nd – Bristol, The Fleece
September
9th – Cologne, Kantine
10th – Berlin, Metropol
12th – Amsterdam, Paradiso
13th – Paris, Trabendo
16th – Manchester, Academy 2
18th – Glasgow, St. Luke's
19th – Birmingham, Academy 2