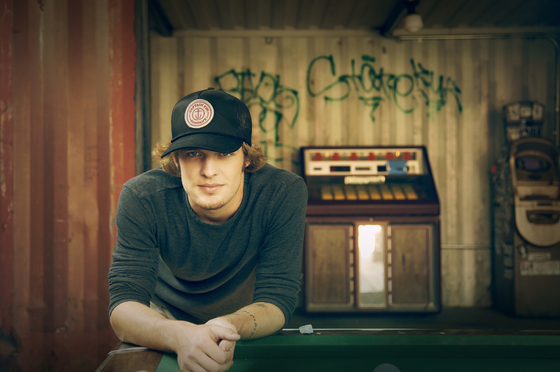 TUCKER BEATHARD'S BREAKOUT YEAR MEASURED WITH A TRIP AROUND THE WORLD AND TO THE TOP OF THE CHARTS
December 7, 2016
Beathard Breaks Curfew During Final Memorable Headlining European Date To Fulfill Fan Requests
Singer/ Songwriter Tucker Beathard is wrapping a landmark year, as he closed out headlining dates in Europe this week, as part of his second trip across the pond in the space of just a few months. With an instantly captivating on-stage presence that stems from being a born storyteller through his music, Beathard first made an impression overseas earlier this year when he "wowed the audience from the start with his stage presence, wit and, of course, good music," (Think Country).  He returned for an unforgettable, significant stint to already fiercely-attentive crowds in Dublin, IE, London, UK, culminating in Glasgow, UK on 12/5.  Beathard, immersed in the palpable connection in the room, welcomed fan requests throughout the night that saw him playing underground demos and fan-favorites while breaking the venue's curfew to gratify the impassioned audience.
"When I played in Europe a few months ago, it definitely felt like something clicked, but I definitely didn't know just how much," said Beathard.  "The connection I felt with the fans over there this time was pretty intense,  they had done their research since I'd played last time and it showed. The songs they were asking me for, singing along to, it was insane and fired me up to keep going until they kicked all of us out of there!'
On multiple "Artists To Watch" lists including The Bobby Bones Show, Huffington Post, Rolling Stone, MySpace, Taste Of Country and recently singled out as one of MusicRow's "2017 Next Big Thing," Beathard owned the year as a breakout artist on superstar Dierks Bentley's tour "generally blowing folks' minds with his catalog of heartbreak-heavy tunes" (Vice).  The tour saw Beathard's live momentum gain, as his debut Top 5 single and summer anthem "Rock On" climbed the charts, amassing almost 16 million streams on Spotify alone as Rolling Stone noted "he flips a switch when he gets on Bentley's massive stage, getting audiences fired up."
As Beathard's "meteoric rise" (MSN) continued, and with a family history deep-rooted in football, ESPN exclusively announced that he would headline his first-ever ROCK ON COLLEGE TOUR hitting "Big Ten Conference" towns.  The string of dates saw Beathard showcase that "his country-rock infused live shows is one fans will be talking about long after the encore," (Sounds Like Nashville) and culminated in a full-circle moment with a sold-out show in Iowa City, IA where his quarterback brother C.J.'s Hawkeyes beat Michigan on the same day. CMT Hot 20 sat down with the brothers to reflect on the special day here.
Shortly following the announcement of his headlining tour, Entertainment Weekly exclusively announced the release of Beathard's fiery FIGHT LIKE HELL EP (Dot Records) that shot to the top of the iTunes Country Chart.  Critics praised the "much buzzed about singer/songwriter's" (PEOPLE) collection for "lyrics [that] are personal, but accessible" (Taste Of Country). Following the success of his debut single "Rock On," Beathard revealed the rebellious "Momma And Jesus" as his second single to Country radio, taken from the EP. Most added in its debut week, Billboard highlighted the single as "the hallmark of an introspective writer: thoughtful, different," while RARE Country praised "as with all of the music that has come out of Tucker thus far, it perfectly tells his truth."
With limitless milestones ahead, Beathard will make his much-anticipated Grand Ole Opry debut in 2017 on January 14, where he will take to the hallowed stage at the Ryman for the first time. A relentless touring nature, evident in the almost 200 performances Beathard has undertaken this year,  Tucker will head out on Brantley Gilbert's The Devil Don't Sleep Tour kicking off on February 2 in Reading, PA. For more information and a full list of tour dates visit tuckerbeathard.com.
###
Contact:
Kristie Sloan
The GreenRoom
615-242-7444
Jake Basden
Big Machine Label Group
615-324-7769
jake.basden@bigmachinemail.com