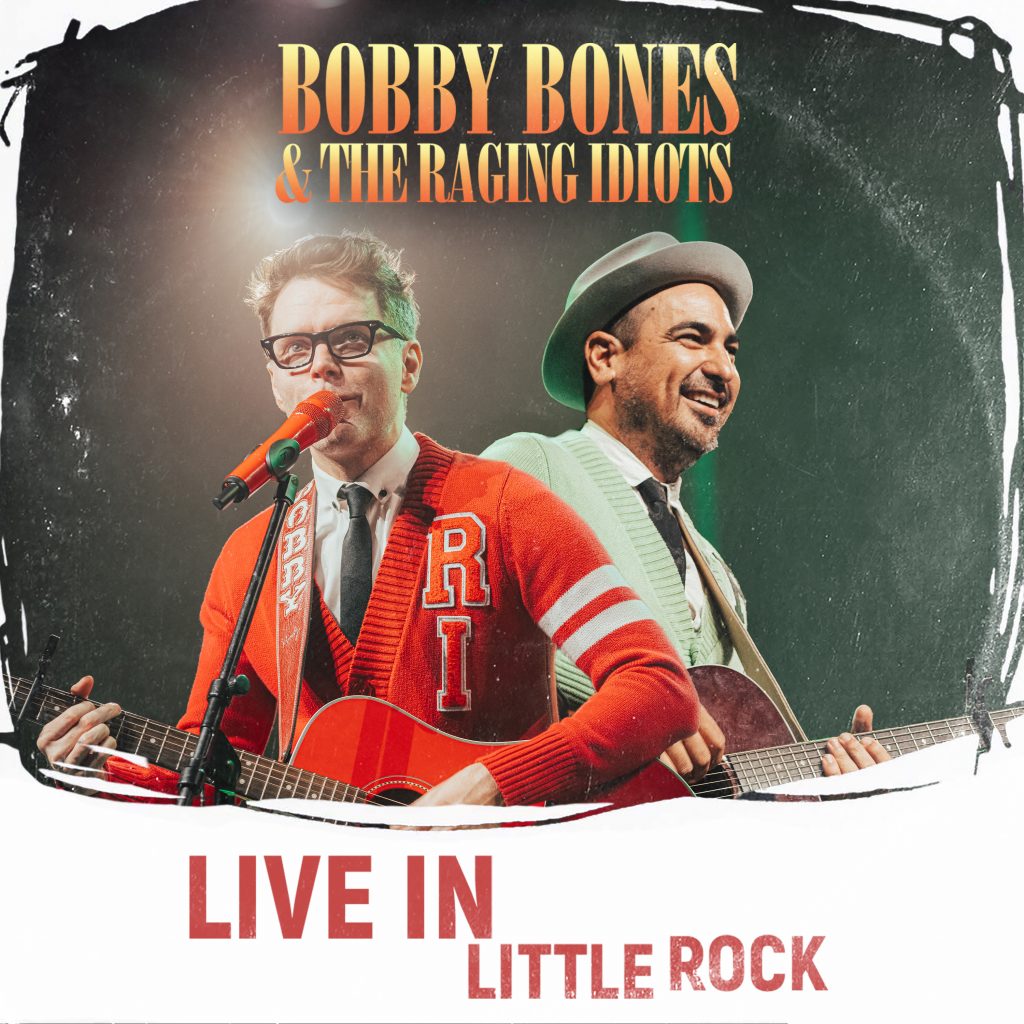 BOBBY BONES & THE RAGING IDIOTS DROP SURPRISE ALBUM LIVE IN LITTLE ROCK – AVAILABLE NOW
April 2, 2020
Nashville, TN – April 2, 2020 – Radio and TV personality Bobby Bones and his musical comedy band Bobby Bones & The Raging Idiots dropped their new album 
LIVE IN LITTLE ROCK
 today – serving as a surprise release on Bones' birthday. Featuring their latest "chuckle-inducing tune" (
Sounds Like Nashville
)
, "The Target Song" written by Bones and Jim Beavers (Tim McGraw, Luke Bryan), the album includes eight hilarious new cuts anchored by "comedic deliveries that blend, but don't overshadow their actual, legitimate musical talent" (
American Songwriter
). Listen to the album
HERE
 and watch the live video of "It's Not You, It's Me" feat. Emma Klein
HERE
.
"When we started The Raging Idiots years ago, our main goal was to make people laugh and spread positivity however we could," Bones said. "Everyday life has drastically changed the last few weeks and people are unable to get together and celebrate the way they planned, so I wanted to try to share some laughs on my birthday and hopefully it brings smiles when people need it the most!"
The new project was recorded in Bones' home state of Arkansas at a packed house on their recently wrapped "hot ticket" (Fresno Bee) tour that critics raved "lived up to the hype" (Plant City Observer), It's Just The Two Of Us…Sorry. LIVE IN LITTLE ROCK follows the success and popularity of their most recent EP LIVE IN BOSTON, which featured the witty and fun track "Jesus Knows" and "Hobby Lobby Bobby."
LIVE IN LITTLE ROCK Track List:
1) "I'm Here" feat. Walker Burroughs 
(Bobby Bones, Eddie Garcia, Emma Klein)
2) "The Target Song"
(Bobby Bones, Jim Beavers)
3) "Can't Say That (In A Country Song)"
(Bobby Bones, Jim Beavers)
4) "It's Not You, It's Me" feat. Emma Klein
(Bobby Bones, Jim Beavers, Eddie Garcia)
5) "Poison Ivy"
(Bobby Bones, Jim Beavers, Brandon Ray)
6) "Dinner with Orlando Bloom"
(Bobby Bones, Brandon Ray)
7) "All the Holidays"
(Bobby Bones, Jim Beavers)
8) "These Are the Things I Like"
(Bobby Bones, Jim Beavers, Brandon Ray)
This weekend, Bones will continue to connect with audiences virtually as he returns to host this Saturday evening's broadcast of the Opry live on 
Circle
 at 8:00 PM ET/ 7:00 PM CT as well as make a special appearance on ACM PRESENTS: OUR COUNTRY, which airs Sunday, April 5 (8:00-10:00 PM, ET/PT and 7:00 PM CT) on the CBS Television Network and on CBS All Access.
Radio and TV personality Bobby Bones who "has carved out a place for himself in nearly every corner of the entertainment world," (American Profile) is host of the nationally syndicated radio show, The Bobby Bones Show, which broadcasts to over 150 stations and is the #1 Country morning show with millions of weekly listeners. The show recently garnered its second Country Music Association Award for National Broadcast Personality of the Year and fourth ACM Award for National On-Air Personality of the Year and earned Bones the title of youngest ever inductee into the prestigious National Radio Hall of Fame. The "media multitasker" (Billboard) also launched his own podcast, BobbyCast, which features candid long-form interviews with top artists and industry figures and has been downloaded nearly 13 million times. The podcast's overwhelming success has paved the way for Bones to launch the Nashville Podcast Network, an eclectic collection of podcasts from a variety of Nashville-savvy hosts, giving listeners an inside look at the lifestyle and pop culture in Nashville. Bones won Season 27 of ABC's Dancing with the Stars and is the official in-house mentor on ABC's American Idol. Most recently, he is Host & Executive Producer of Opry, a weekly TV program airing highlights from the Grand Ole Opry stage on Circle Network. Additionally, Bones' chart-topping musical comedy band Bobby Bones & The Raging Idiots recently wrapped It's Just The Two Of Us…(Sorry) tour and released their new project LIVE IN LITTLE ROCK on April 2. Bones is also a two-time New York Times #1 bestselling author, touring stand-up comedian, and philanthropist – a true "jack of all trades" (ESPN). Visit https://bobbybones.iheart.com for more information.