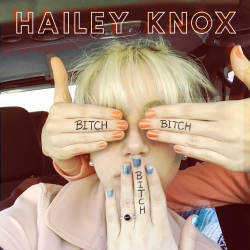 Hailey Knox Calls Out Contagious Negativity on Provocative "Bitch, Bitch, Bitch"
October 12, 2018
New Single Is The First Look At 'Hardwired Mixtape', Out This November
Twenty-year-old Hailey Knox has been called "the next music sensation" (People Magazine) with a "preternaturally soulful voice" (Billboard) and today she releases her latest song "Bitch, Bitch, Bitch," representing a provocative turn for Hailey in her writing as she rifts over a tribal beat about those that wrap themselves in contagious negativity.
Earmilk praised the track, saying "Knox's sonic creativity truly shines in this single, and it's apparent from the very first guitar strum." Listen HERE.
"Bitch, Bitch, Bitch" is the beginning of a new era for Hailey, as she preps the November-release of her latest body of work — a mixtape — titled the 'Hardwired Mixtape'.
A collection of brand new songs, studio versions of live show fan favorites, and short B-side brainstorming snippets, the 'Hardwired Mixtape' chronicles the journey of a "certified social media crossover" (Paper Magazine) who has gone from an early teen experimenting with a guitar in her bedroom and sharing her creations via YouNow, to bringing her "see-it-to-believe-it" live performance (complete with looping pedals, unexpected mash-ups, and even a mouth trumpet) on tour with the likes of Charlie Ruth and AJR, to evolving her road-tested talents as a singer, songwriter, composer and performer into a fully realized creative power.
The 'Hardwired Mixtape' will feature Hailey's unique brand of well-crafted homespun indie pop injected with humor, pop culture references, a cunning intelligence, and earnest reflections on everything from the dilemma of trying to feel "cool" in 2018, uncertainty in young love, and the complicated feelings of being out on the road written through the eyes of an artist touring for the first time.
Hailey will also make her festival debut at Austin City Limits Music Festival this Sunday when she takes the BMI Stage at 5PM. The performance follows years of praise from the likes of NY Times, Teen Vogue, Seventeen, Billboard, People, and Paper Magazine, as well as a performance on NBC's TODAY.