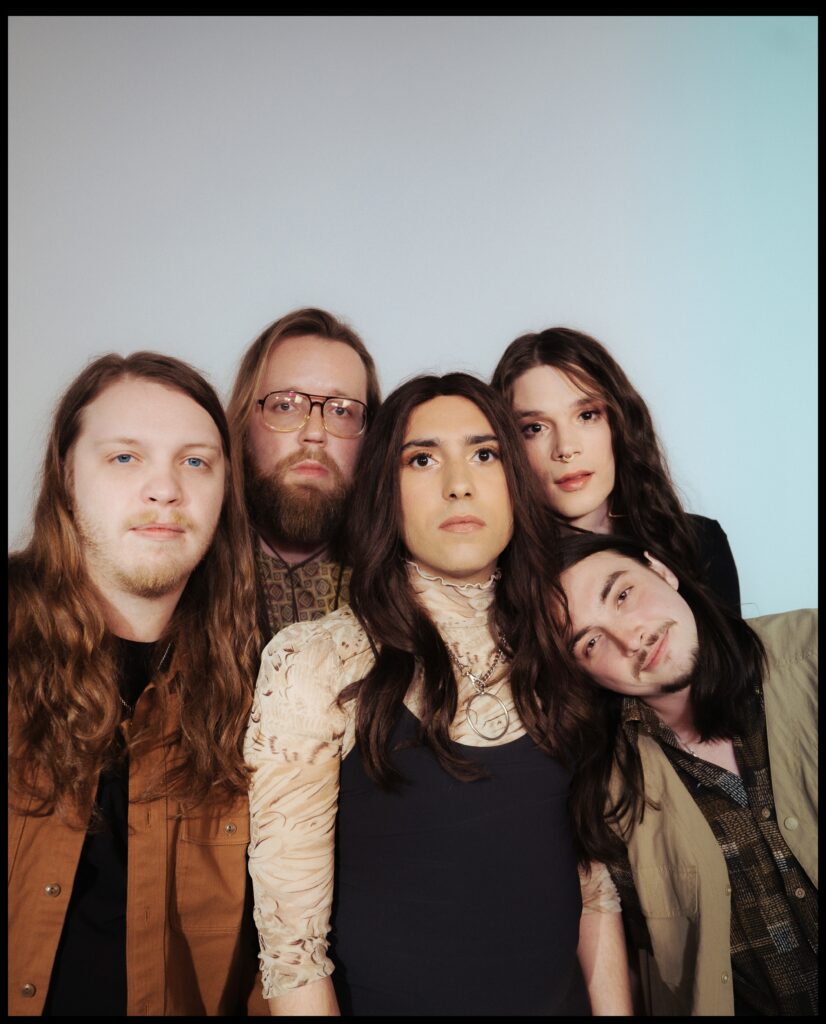 RAINBOW KITTEN SURPRISE RELEASE NEW SINGLE "DROP STOP ROLL"
April 11, 2023
Today, genre-defying, Nashville-based quintet and live sensations Rainbow Kitten Surprise have shared a new single entitled "Drop Stop Roll" – streaming on all platforms nowvia Elektra Entertainment. The track notably marks the band's first new music since 2022.
Evoking the collective's creative magic once more, "Drop Stop Roll" – a fan favorite that the band has been playing live for the past year – glides along on a glassy clean guitar melody and steady beat on the way towards an instantly chantable chorus. It unfurls with a hypnotic harmony uplifted by psychedelic flourishes and ponderous lyrical poetry, creating a mesmerizing sonic experience.
Additionally, Rainbow Kitten Surprise have expanded their already stacked 2023 tour schedule. Renowned for highly energetic and unforgettable shows, they will embark on a seven-week North American headline jaunt this fall. Support comes from Indigo De Souza and flipturn on select dates. The band is offering VIP packages including premium seating, early entry into the venue, and limited-edition band merchandise.  A special fan club presale launches tomorrow April 11 at 10am local time followed by a Spotify presale April 12 at 10am local time and local presales on April 13 at 10am local time. General on-sale commences Friday April 14 at 10am local time. Rainbow Kitten Surprise has once more partnered with PLUS1 so that $1 from every ticket sold will go to local food banks working to fight hunger and food insecurity. Rainbow Kitten Surprise has already raised over $170k for food banks in local tour markets, LGBTQ+ causes, and mental health initiatives.
Fans may enter to win a trip to see Rainbow Kitten Surprise perform two sold out shows at the iconic Red Rocks Amphitheatre in Morrison, CO (July 5th & 6th). Listeners may take action and donate for entry HERE. The grand prize package includes two tickets to both Red Rocks gigs, access to the official Rainbow Kitten Surprise afterparty, Meow Wolf Convergence Station tickets, and roundtrip air travel for the winner and 1 guest to Denver, CO provided by Southwest Airlines® as well as hotel accommodations, rideshare credit, and more. It is the ultimate Rainbow Kitten Surprise summer experience!
These dates will be part of  'Live in Colorado,' a four-night run set around this summer's July 4th holiday with the two nights at Red Rocks and two nights at Dillon, CO's Dillon Amphitheater (July 2nd & 3rd). Fellow Nashville-based outfit The Brook & the Bluff will support all four dates. Full ticketing information for all upcoming dates can be found here.
They also just earmarked the fifth anniversary of their fan favorite 2018 LP How to: Friend, Love, Freefall, with the launch of their Propeller Artist Hub. It notably features exclusive colorways of three albums, signed copies of How to: Friend, Love, Freefall, and a commemorative limited-run How to: Friend, Love, Freefall t-shirt available for purchase. All proceeds benefit organizations the musicians believe in and support, including official partners ACT – Abortion Care Tennessee, REFORM,  PLUS1, Nashville Launch  Pad Street Free Sleep, and Music Health Alliance. They also continue to give back to MAPS, Sandy Hook Promise, and Bloom.
Always a festival favorite, Rainbow Kitten Surprise will appear at Bonnaroo and Hangout Music Festival this summer, in addition to headlining Charleston, South Carolina's High Water Festival alongside Beck and Wilco in April. Last year, the band topped lineups at Atlanta's Shaky Knees Festival, Napa, CA's Bottle Rock Festival, and Rothbury, MI'sElectric Forest.
The band has already had a remarkable year in 2023, having achieved RIAA-platinum certification for their standout single "It's Called: Freefall." This achievement was followed by the release of their highly emotional track "Work Out" in 2022, marking their first new music in nearly two years. The song's beautiful melody-line and effervescent vibe stands in stark juxtaposition to its poignant lyrics about the difficult relationships – of all sorts – that people struggle with. "Work Out" arrived alongside a lyric video, handwritten by RKS frontperson Ela Melo (watch here). The stunning official visual was directed by Joey Brodnax and released last June (watch here).
RAINBOW KITTEN SURPRISE – NEW FALL 2023 TOUR DATES:
SEPTEMBER 2023
Sun, September 17 
–
Salt Lake City, UT*       
Tues, September 19 
–
Boise, ID*
Wed, September 20 
–
Missoula, MT*            
Thurs, September 21 
–
Missoula, MT*
Sat, September 23 
–
Seattle, WA*
Sun, September 24 
–
Vancouver, BC*            
Tues, September 26 
–
Portland, OR*              
Fri, September 29 
–
Berkeley, CA*  
Sat, September 30 
–
Los Angeles, CA*
OCTOBER 2023
Tues, October 10 
–
Philadelphia, PA**          
Wed, October 11 
–
New York, NY**
Fri, October 13 
–
Toronto, ON**
Sat, October 14 
–
Toronto, ON**
Sun, October 15 
–
Montreal, QC**
Tues, October 17 
–
Boston, MA**
Wed, October 18 
–
Boston, MA**
Fri, October 20 
–
Detroit, MI**
Sat, October 21 
–
Chicago, IL**
Sun, October 22 
–
Indianapolis, IN
Tues, October 24 
–
Washington, DC                                               
Fri, October 27 
–
Charlotte, NC*
Sat, October 28 
–
Charlotte, NC*
Tues, October 31 
–
Austin, TX*
NOVEMBER 2023
Fri, November 3 
–
Houston, TX*
Sat, November 4 
–
Dallas, TX*
With Support from flipturn* & Indigo De Souza**
RAINBOW KITTEN SURPRISE – PREVIOUSLY ANNOUNCED DATES:
* Festival Performance
= The Brook & the Bluff supporting
APRIL 2023
Sat, April 15
th
 – Sun, April 16
th
 – North Charleston, South Carolina – High Water Festival *
MAY 2023
Fri, May 19
th
 – Sun, May 21
st
 – Gulf Shores, AL – Hangout Music Festival *
JUNE 2023
Sat, June 16
th
 – Manchester, TN – Bonnaroo Music & Arts Festival *
JULY 2023
Sun, July 2
nd
 – Dillon, CO – 'Live in Colorado' @ Dillon Amphitheater =
Mon, July 3
rd
 – Dillon, CO – 'Live in Colorado' @ Dillon Amphitheater =
Wed, July 5
th
 – Morrison, CO – 'Live in Colorado' @ Red Rocks Amphitheatre =
Thurs, July 6
th
 – Morrison, CO – 'Live in Colorado' @ Red Rocks Amphitheatre =