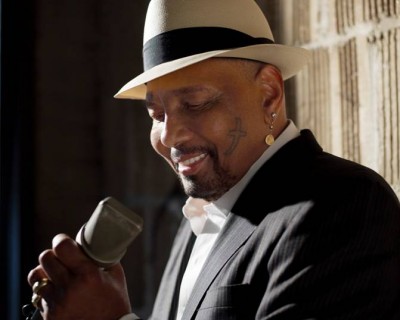 TELL IT LIKE IT IS: My Story by Aaron Neville – Out September 5, 2023
July 11, 2023
For the first time, legendary singer and songwriter Aaron Neville tells his personal story of overcoming poverty, racism, addiction, and loss through faith, family, and music
"When Aaron Neville sings he is the mightiest of Archangels. The truth he's written in these pages is no less powerful. He tells his riveting story with all the triumphs and sorrows, joys and frustrations he has experienced in his eight decades of life."
— Linda Ronstadt
"[Neville] leaves readers sharing his conviction that his life has been something of a miracle and that 'my voice was my salvation.'…The author's life has been an inspiration….A worthwhile musical survivor's story."
— Kirkus
With a career that spans six decades, Aaron Neville's many accomplishments include four platinum albums, three hit #1 songs on the Adult Contemporary chart, and the 2014 Grammy Hall of Fame induction of his R&B classic "Tell It Like It Is." Despite this massive success, Neville never thought he'd be here for this long. Instead, his road to acclaim is a circuitous one, fraught with challenges.
Born in a housing project in New Orleans of Black and Native American heritage, Aaron Neville – known for his trademark falsetto – began singing in the projects of New Orleans. But although he always wanted to sing, life often got in the way of this dream. A married father by the age of eighteen, Aaron had a family to care for and often couldn't support them through music alone. So while he had a national Top 10 with "Tell It Like It Is" in the '60s, Neville didn't return to the spotlight until the late 70s with the Neville Brothers, the "First Family of New Orleans Music."
In between his times in the public eye, Neville worked a wide variety of jobs—loading cargo, painting houses, digging ditches—to care for his family. He also served a six-month stint in Orleans Parish Prison for car theft at the age of 19, was later sentenced for burglary, and struggled with a heroin addiction into the early '80s.
Neville again reached the top of the charts in 1989 with his album of duets with Linda Ronstadt, Cry Like a Rainstorm, Howl Like the Wind. The album featured the #1 Grammy-winning hits "Don't Know Much" and "All My Life." Neville followed this with a string of hits including "Don't Take Away My Heaven," "Even If My Heart Would Break," and a hugely popular cover of the Main Ingredient's "Everybody Plays the Fool."
Aaron's story is one of overcoming incredible odds. By all accounts he should not have made it in the music industry. Yet, here he is. Even more remarkably, Aaron's story has never been told in full until now. TELL IT LIKE IS: My Story  (Hachette Books, 9/5/23) marks the first time the award-winning artist showcases the entirety of his career and life. Aaron adds, "To all my fans and friends, I hope that you enjoy reading about my journey through life. All the ups and downs, ins and outs… buckle up, stay in the saddle, while I tell it like it is…and like it was."
With raw and unflinching honesty, Neville's reflections shed light on a life not usually chronicled in literature: that of a mixed-race Black man overcoming incredible odds through faith, family, music and resilience.
Aaron Neville is available for media opportunities to promote TELL IT LIKE IT IS. The book will be published in hardcover, e-book, and audio on September 5, 2023.
Aaron Neville began his musical career in the incredibly creative 1950s Crescent City R&B scene. Working with Allen Toussaint, he recorded his first #1 hit, the stirring ballad "Tell It Like It Is," in 1966. In the mid-70s, he began performing with his brothers—Art, Charles and Cyril—as the Neville Brothers, with the release of their debut self-titled album in 1978. Known as the first family of New Orleans music, the Neville Brothers released over a dozen influential albums and regularly closed out the world-renowned New Orleans Jazz & Heritage Festival. The band's accolades include three Grammy nominations, as well as the 1990 Grammy for Best Pop Instrumental Performance for "Healing Chant," and in 2017, the group was inducted into the Austin City Limits Hall of Fame.
Alongside his work the Neville Brothers, Aaron sustained a successful solo career accumulating a number of awards and accolades including five Grammy awards from 14 nominations. Today, Neville has had three singles in the Billboard Top 10 on the Hot 100 chart, three #1 hits on the Adult Contemporary chart, and "Tell It Like It Is" made it to Rolling Stone's list of the 500 Greatest Songs of All Time and was inducted into the Grammy Hall of Fame in 2014. A lifelong devout Catholic, Neville received the University of Notre Dame's Laetare Medal, the oldest and most prestigious honor given to American Catholics, in 2015.
After a lifetime in New Orleans, Aaron Neville now lives in Duchess County, NY.
By Aaron Neville
Hachette Books | September 5, 2023
$29 | Hardcover | 288 Pages | ISBN: 9780306832536